Thank you for coming! See you in July 2024!
Want to see photos from SkyRide and SkyRace?! Click below!
Questions on how to get there?
Let's Ride (or Race) & Party on Sunday July 16!
Presented by Independent Health

SkyRide
(8:45A – 11:30A): The classic ride you know and love will take off from a new location. Still Outer Harbor, Lakeside Bike Park, but this time, we'll be on the western side of the small hill (through the GObike blue-lit tunnel), taking over the space used for concerts and giving you more opportunities to gaze upon beautiful Lake Erie!
(Registration begins at 7:00A, all riders off the Skyway by 11:30A)
SkyRace – New this year!

(7:00A – 8:30A): For competitive cyclists, we're offering a USA Cycling-sanctioned race that will allow you to tear up and down the Skyway at full speed, one of the most unique race routes you'll encounter in the entire country, we're inviting all categories to participate (Cat 4 & 5 are beginners, Cats 3, 2, & 1 are experienced and more competitive). NOTE: Registration for SkyRace is run separately through BikeReg. Click here to register for SkyRace only. Registering for SkyRace includes ability to slow down after 8:30A and participate in SkyRide afterward, too!
(Registration begins at 6:00A. All racers off the course by 8:30A)
Lakeside Bike Bash! – New this year!
(10:30A – 1:00P): We're building out a more comprehensive post party than ever before. Stick around in Outer Harbor's concert venue with its massive tents for refreshments including food, beer, and music. We know as much as Buffalo loves a good recreational event out on our area roads, we love a good post party, too. That's why this year's will be bigger than ever!
(Event is open to everyone. For registrants age 21+, two tickets for refreshments will be included in your packet. Not riding but want to attend the bash? Additional tickets will also be on sale for $5.)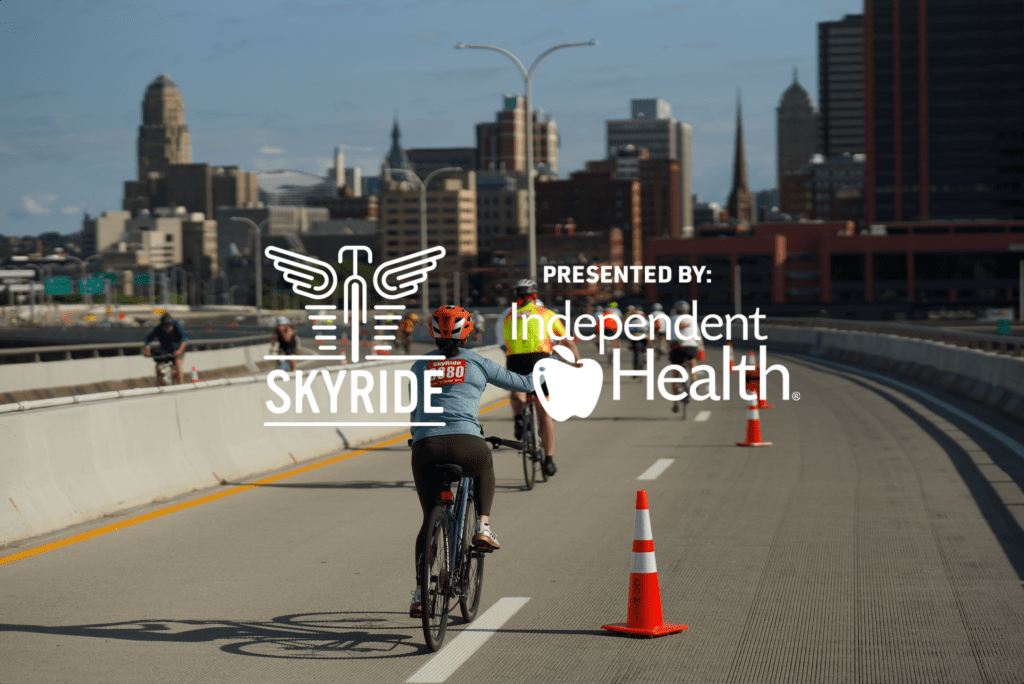 Our incredible sponsors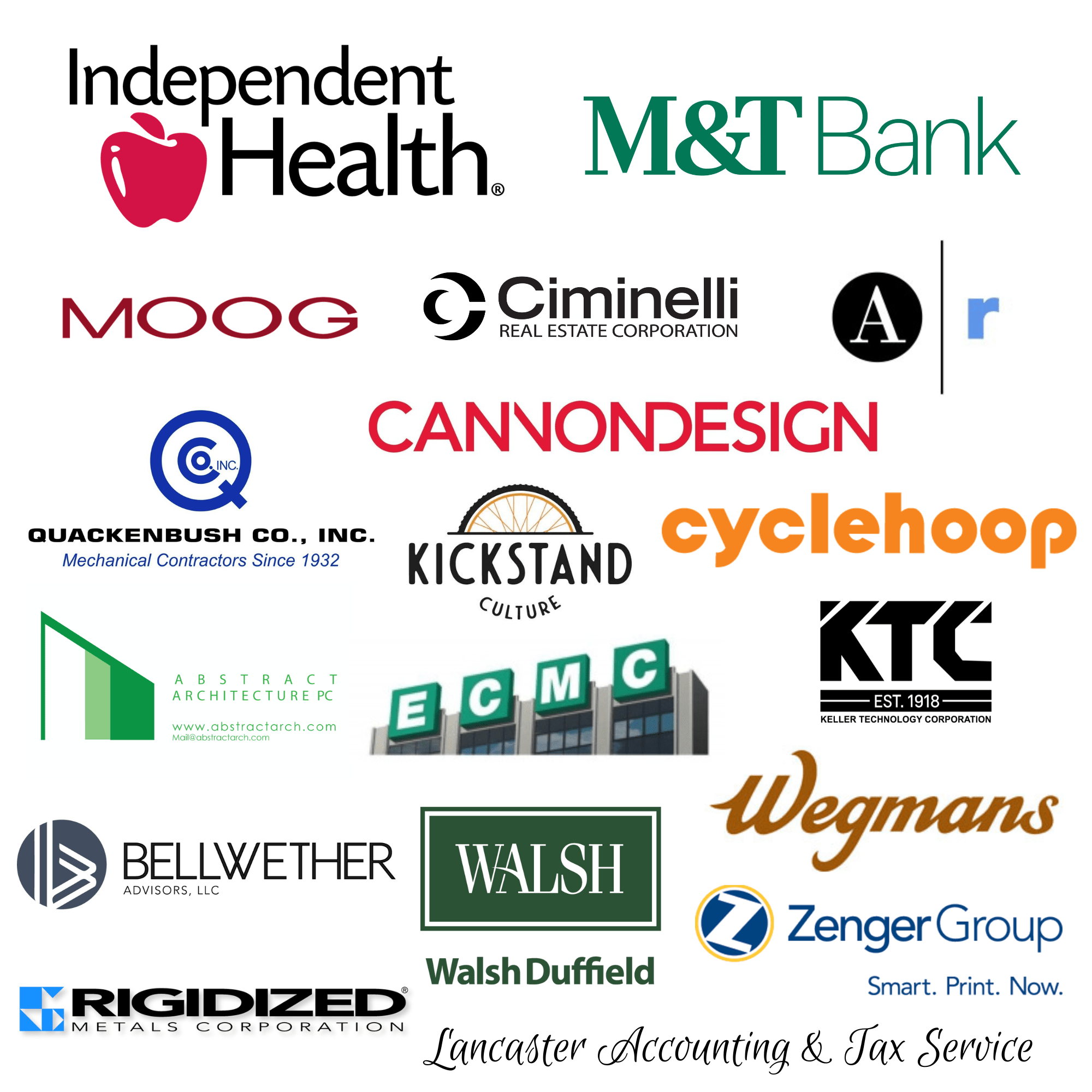 Ride Highlights
Family-Friendly Route
Competitive cyclists are invited to register for SKYRACE which will kick off earlier in the morning before the SkyRide.  Course map and registration link coming.
Cyclists of all ages, shapes, sizes and skills are welcome and encouraged to participate in SKYRIDE. The SkyRide is a great ride for family and friends! Of course it's a climb, but a gradual one, well-worth the view 🙂 Course will be roughly the same as 2022, seen below.
SKYRIDE BIKES:
1-seaters, 2-seaters, (3-seaters?!), road bikes, mountain bikes, cruisers, cargo bikes, bikes with seats for kids, bikes with trailers for kids, they're all part of the fun, invited and welcome.
SKYRIDE ELECTRIC BIKES:
For safety reasons on our course, we ask that you please leave your Class II and Class III e-bikes at home. Class I e-bikes are permitted and welcome at SkyRide.
(For SkyRace, All e-bikes banned.)
Ride an Urban Highway
ROAD CLOSED! 2023's route is a car-free urban highway adventure on your bike, along Buffalo's waterfront, through an Olmsted Park, and of course, over the Skyway and back again.
The best view in the city
No stopping and getting off your bike for photos, but you can ride slowly and soak in one of the best views ever.
Location & Route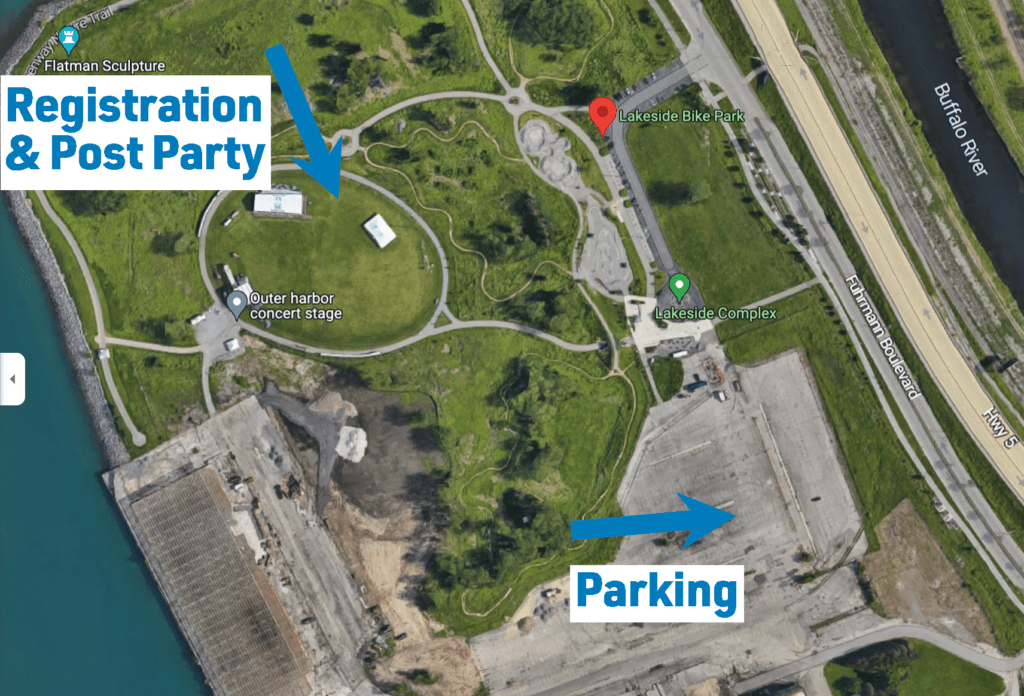 The ride will start and end at Buffalo Outer Harbor Concert Venue, 825 Fuhrmann Boulevard, Buffalo, NY 14203.
Riders, we're thrilled to say that the Ohio Street Bridge has reopened to make it easier to get down to the Outer Harbor than last year! While there is car parking available, we encourage riding your bike to the event wherever possible, and we will release rallying points and additional packet pickup locations later this summer.
From the concert venue, we'll use both bike paths to approach Fuhrmann Boulevard and make a right, then a left on Tifft, a right on Hopkins, head into South Park, back to Hopkins, Tifft, and then board the Skyway! This will spread out the crowd a bit before everyone begins their charge up the Skyway. Go up, down, loop around on Eagle Street downtown, and do it all over again on your way back to Silo City.
(Not interested in going that entire distance? You can also board the Skyway at Tifft without needing to head out to South Park).
One Loop is roughly 9.5 miles – you can do as many loops as you'd like from 8:45A – 11:30A: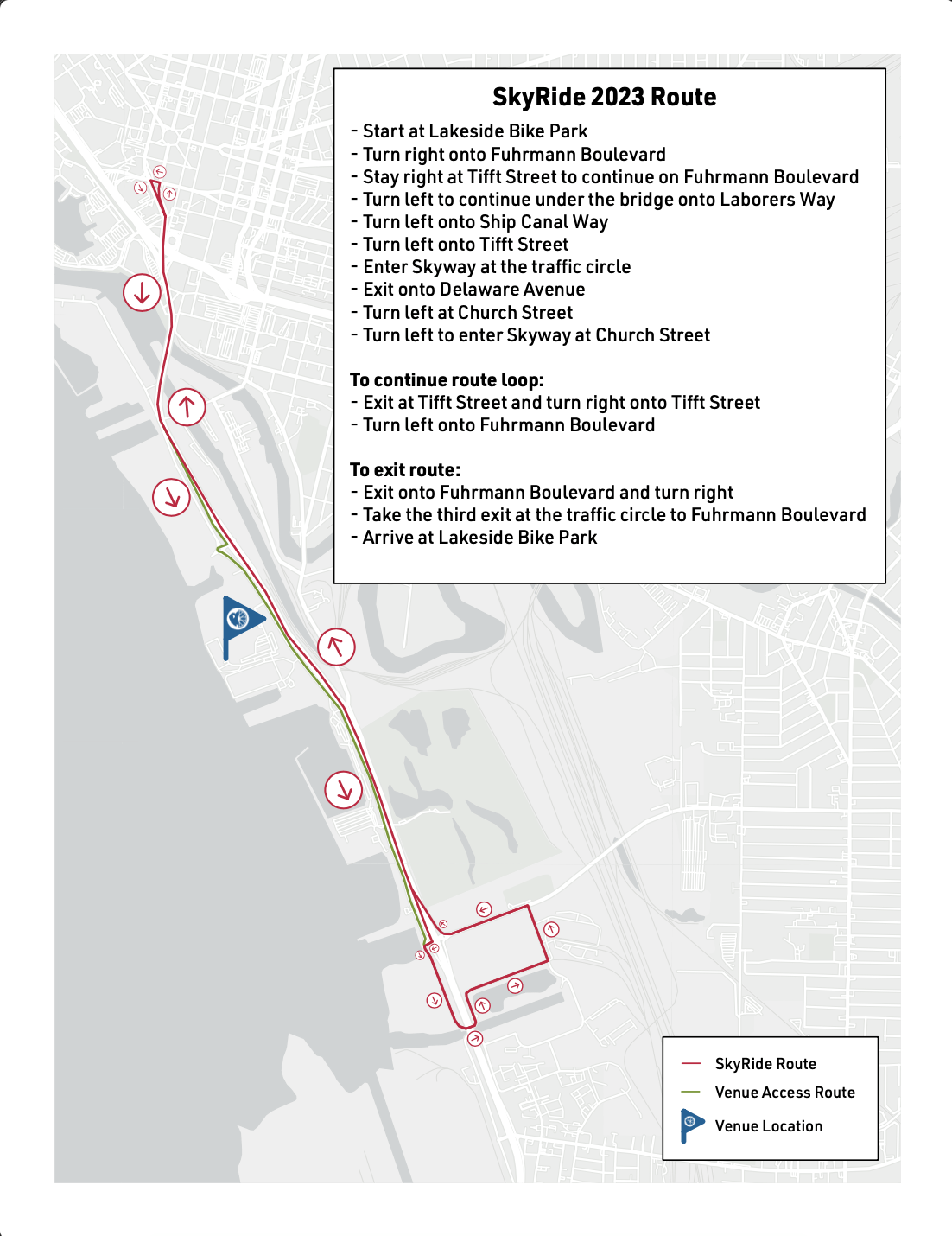 Registration:

By July 10, 2023:
Adult (Age 21+): $40
GObike Member Adult (Age 21+): $32
Youth (Age 5-20): $20
GObike Member Youth: $16
Kids (Age 0-5): Free!
After July 10, 2023:
Adult (Age 21+): $50
GObike Member Adult (Age 21+): $40
Youth (Age 5-20): $25
GObike Member Youth: $21
Kids (Age 0-5): Free!
Registration includes access to the Skyway on your bike, bottled water, and fruit or snacks, 2 tickets for post party refreshments for registrants 21+. Additional food and tickets for sale on-site for everyone present.

Children under 10 must be under their parents' conveyance (child seat, trailer, or tag-along). Children under 5 are free!
Save 20% by becoming a member right now 🙂


Additional Options
Champion – $100
For those able and willing to go above and beyond, your registration will cover the cost of someone in our community who otherwise could not afford to ride. Champions receive an invite to a VIP event, their name will be listed on this SkyRide website.
Additional Information
Children under age 18 must be joined by a parent or guardian at all times. Please note that, aside from snacks, fruit and bottled water, vendor food and merchandise are not included with registration.
GObike Members: You MUST log in to our member database while registering to receive your member discount.​ It is then automatically applied at checkout.
Refunds for SkyRide registration are not available after June 15, 2023. After that, your registration fees will be considered a donation to GObike and our work to make streets safer.
Please note the event will NOT be canceled due to rain. The event will only be canceled in the event of a severe weather emergency, as determined by the Buffalo Police. However, the event may be delayed or temporarily suspended due to inclement weather. No refunds will be given for delays or event cancellations.
Champions
Thanks for your support!
Jon Dandes
Christine Mann
Rick Lesniak
Gregory Wilder
John Kolega
Mark Manders
Mark Lawrence
Renee Tarrant
Stephanie Straub
Brittany Perez
David Reading
Joe Skotnicki
Jim Lenker
David Swinnich
Freda Zecher-Tropp
Mark Heimerl
Christopher Kulig
Adam Orsini
Jeffrey Buhr
Sean Crotty
Michael Radder
Erin Copping
Kait Miller
Joseph Genovese
Frequently Asked Questions
Here are some responses to frequently asked questions. Have a different question? Email us at events@gobikebuffalo.org.
Yes, helmets are required. There are affordable options at most bike shops and stores around town. If you're having trouble getting a helmet, we may be able to assist in helping acquire one for the ride through our partnership with Independent Health.
Yes, please bring your family! Riders age 10 and older are allowed to ride independently on all routes with an accompanying adult on the SkyRide. Due to safety concerns, children under 10 years old cannot ride themselves and must be under their parent's conveyance–i.e., riding in a child seat, trailer, tag-along, cargo bikes, etc.
For the SkyRace, you must be at least 16 years old to register.
The SkyRide portion of the day is not a race. Participants can ride at a casual pace. The ride will include both the Skyway itself and city streets to South Park.
The SkyRace (new in 2023, is a separate event beginning at 7:00A and ending before SkyRide)
Most streets and roadways on the route will be closed to traffic. Some of the route will be on city streets. On Fuhrrman Boulevard, you may share the road with a car.
The SkyWay will be closed entirely to automobile traffic from 6am to 12pm. For portions of the route that remain open to automobile traffic, Buffalo Police and ride support volunteers will assist riders to ensure riders safety.
The major roadways will be closed from approximately 6 am to 12 pm. All riders must be OFF the Skyway no later than 11:30A.
No.
No.
NO.
We will lose our permits to close the SkyWay if our riders stop at the top.
For safety reasons, there is no non-emergency stopping allowed up on the Skyway or along the highway routes. We will have professional photographers in various locations taking pictures that will be available online after the event.
Access to the Skyway that we must pay multiple municipalities to safely close to car traffic, as well as bottled water, light snacks.
This is a fundraiser for GObike, allowing us to conduct our work in making Buffalo and Western New York more accessible for people walking, biking, and using transit, including our education, advocacy, policy work, and programming like mobile repairs and bike giveaways. Go to gobikebuffalo.org for more information about our work.
The SkyRide happens rain or shine, no refunds. If there are high winds (25mph+) or heavy rain, the Buffalo Police will determine whether or not it is safe to cross the Skyway. If we aren't able to cross the Skyway, all riders will ride the rest of the route.
Yes. If you have attempted to pay for your SkyRide registration online and cannot complete the transaction, you can send a check or money order to our office:
GObike Buffalo
313 Broadway St
Buffalo, NY 14204
Refunds are available until June 15, 2023. After that date, refunds are not available. Your registration fees will be considered a donation to GObike and our work to make streets safer.
Tier I electric-assist bikes are allowed and welcomed on the SkyRide! However, for safety on the Skyway as riders are climbing up and cruising down, fully electric-powered tier II and tier III bikes with a throttle or anything with a motor are prohibited.
All E-bikes are banned for the SkyRace.