GIVE BEFORE 12/31, and we've got so many gifts for you!!
GObike Buffalo is a vehicle for progress. We believe in biking and active mobility. We also believe that being more bicycle-friendly will make our communities healthier, happier, and more sustainable. That's why we do what we do. Please consider making a donation to GObike Buffalo in support of this commitment.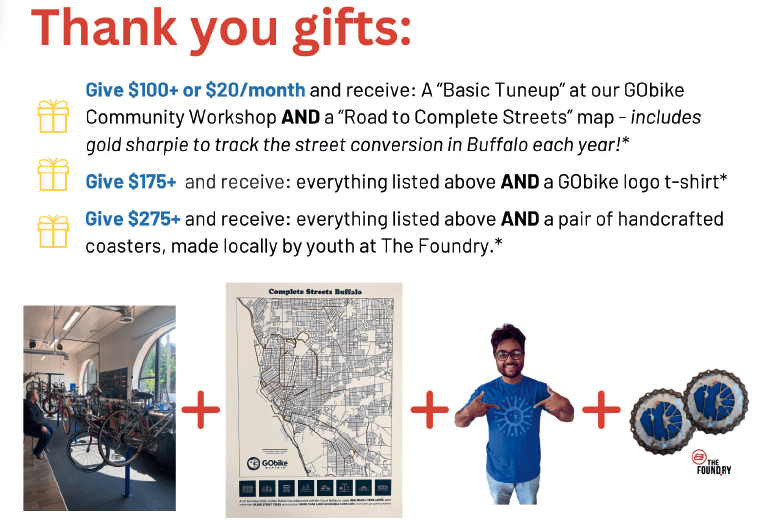 Individual and company donations keep our wheels moving. We gratefully accept tax-deductible financial donations.
We accept bike donations, bike accessories, tools, etc., at our community workshop at 98 Colvin Avenue.  We generally are not able to pick up donations but please contact us if you have any questions beyond the information below:
Want to donate a bike? THANK YOU! You can do so ANY TIME at 98 Colvin using the bike racks to the left of our door. Our team will bring them in multiple times per week. Want to come in and say hello, or receive a tax form for your donation? Then please come during our Open Shop hours at 98 Colvin – every Tuesday 5P-8P, or the first Thursday of every month, 5P-8P for Volunteer Night.
You can also support GObike when you shop at amazon.com! Log into your Amazon account at smile.amazon.com, and choose Green Options Buffalo (that's us!) as your charity. Every time you shop with Amazon, 0.5 percent of your purchase will be donated to GObike.
GObike is a registered charity with both the United Way and the NY State Employees Federated Appeal. A modest payroll deduction per pay period through the SEFA program makes it easy to contribute!