WELCOME TO THE BEST RIDE OF THE YEAR!
THANK YOU
Whether you've already registered for SkyRide 2023 or plan to this week ($45 online until 12PM on Friday 7/14, or $50 day-of on-site), not only does your presence demonstrate the massive amount of cyclists in our region, but your financial support of our organization allows us to continue our work to advance safety and accessibility on our region's streets, roads, trails, and greenways. You're the best!
INVITE YOUR FRIENDS
Riding in the sky is cool and all, but WAY more fun when you do it with all your friends and family. Send them to skyridebuffalo.org right away. Believe it or not, we may SELL OUT this year. WOAH. So your friends and fam should register today!
WHAT'S UP DAY OF THE RIDE?
Whether you've done SkyRide before or not, please check out instructions below as many things are new this year:
EARLY PACKET PICKUP
Tuesday 7/11, 3P-6P @ GObike's Global Headquarters at 313 Broadway in Buffalo
Wednesday 7/12, 3P-6P @ Bert's Bikes on Niagara Falls Boulevard in Tonawanda
Thursday 7/13, 3P-6P @ Tom's Pro Bike on Orchard Park Road in Orchard Park
Inside the packet will be your bib, safety pins, and your two drink tickets for the post-party. Please don't lose them.
(Note: All SkyRace packet pickup will take place day-of, on-site ONLY)
WEATHER
A reminder that we will NOT cancel for rain. We may postpone for a matter of minutes if there is thunder and lightning, but the plan is to ride, ride, ride regardless!
HOW TO GET THERE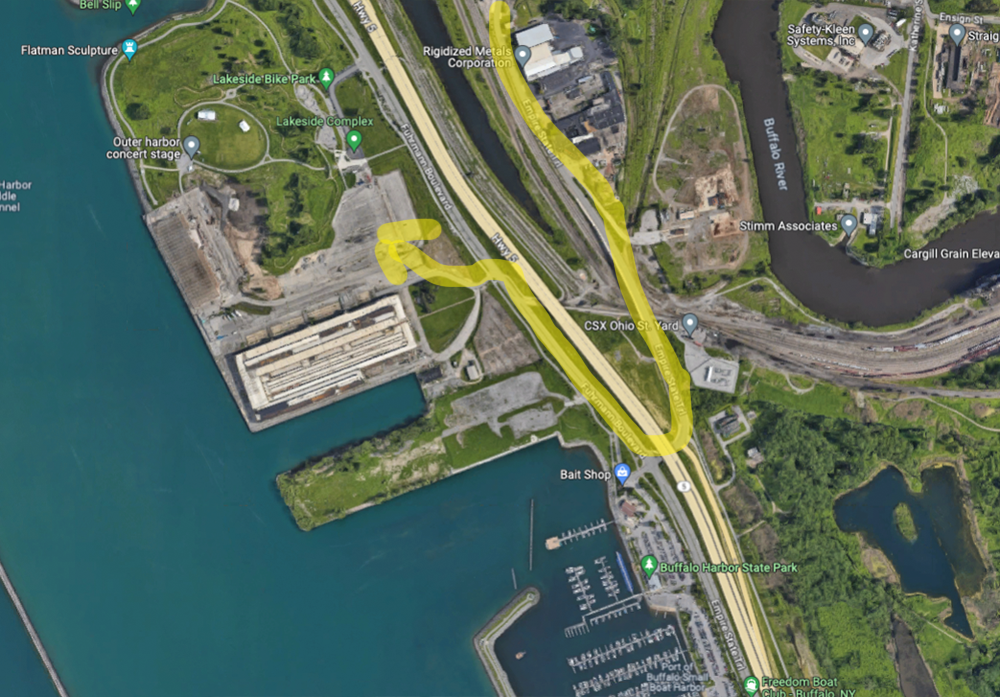 RT5 Skyway North and South will be CLOSED at 6AM. Do not plan to use them to get to Outer Harbor.
Tifft Street will be CLOSED from Hopkins.
Union Ship Canal and Laborers Way will be CLOSED, which also eliminates using Ridge Road to enter.
What will remain open is Ohio Street and Fuhrmann Boulevard. Obviously, be on the look out for cyclists who are also arriving, or who may be starting or finishing the SkyRace (that launches earlier at 7:00AM). SkyRide launches at 8:45AM).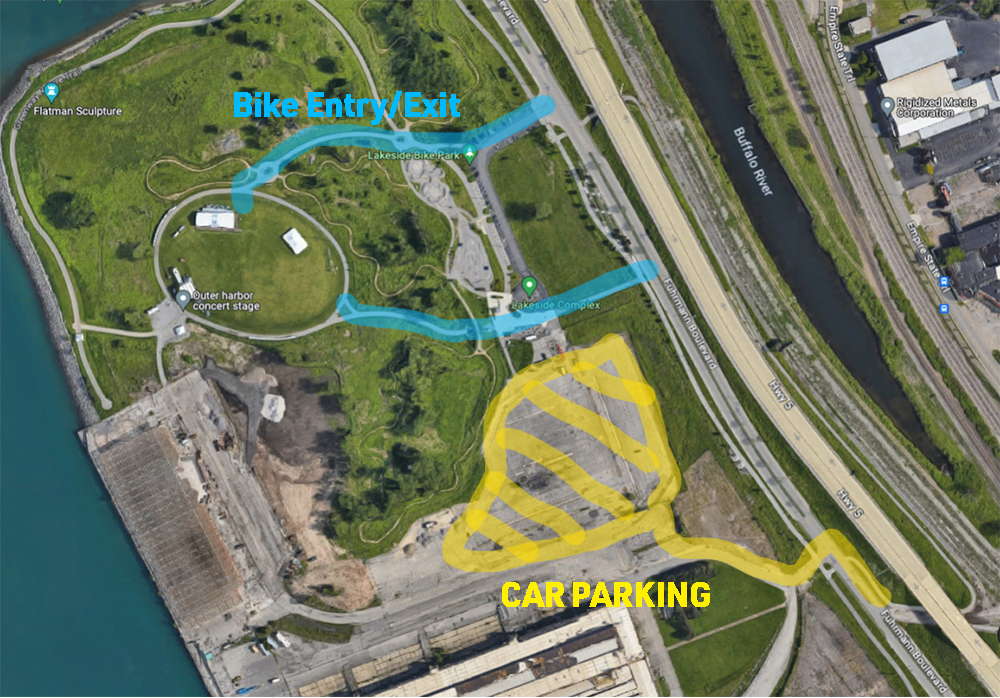 A reminder that this year it is NOT at Lakeside Bike Park. Just beyond this location, we are through the tunnel, and out on the water at the Outer Harbor Concert Venue!
On the image above, you'll see that you can ride your bike right up to our event center with two options. Either by the big green LAKESIDE billboard from Independent Health, or through the tunnel. We will have copious amounts of bike parking up by the big tent thanks to our friends at Ride for Roswell.
In a car, you'll pull off of Furhmann Boulevard slightly south of our event center. After you find parking, you can also walk/ride through the tunnel to our event center. You can also park on Fuhrmann itself.
RULES OF THE ROAD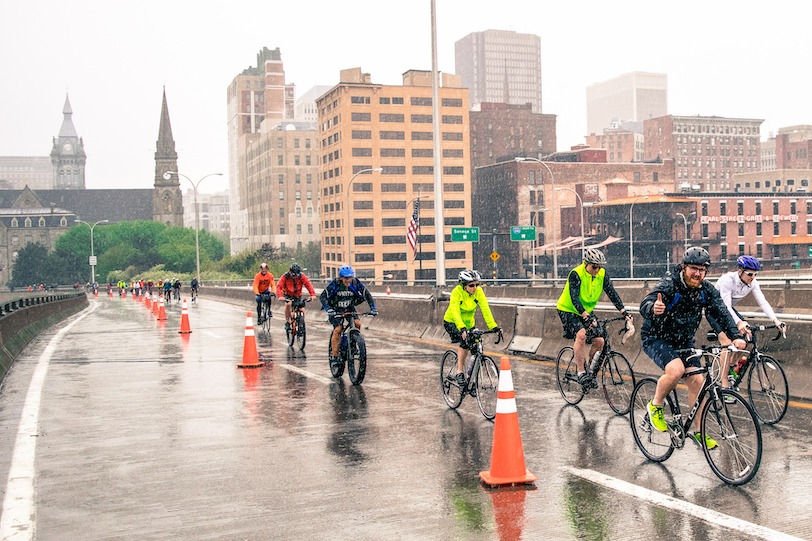 YOU MUST WEAR A HELMET
YOU MUST HAVE A BIB PINNED TO YOU TO ACCESS THE SKYWAY
(Those who have a bib have paid, but have also signed a waiver, making them the only people able to legally access this NYS DOT roadway)
NO STOPPING AT THE TOP, NO WALKING, JOGGING THE COURSE EITHER
RIDE THE INSIDE LANE. NYSDOT REQUIRES IT. NO RIDING ON THE OUTER EDGE.
GIVE YOURSELF SOME TIME IN THE MORNING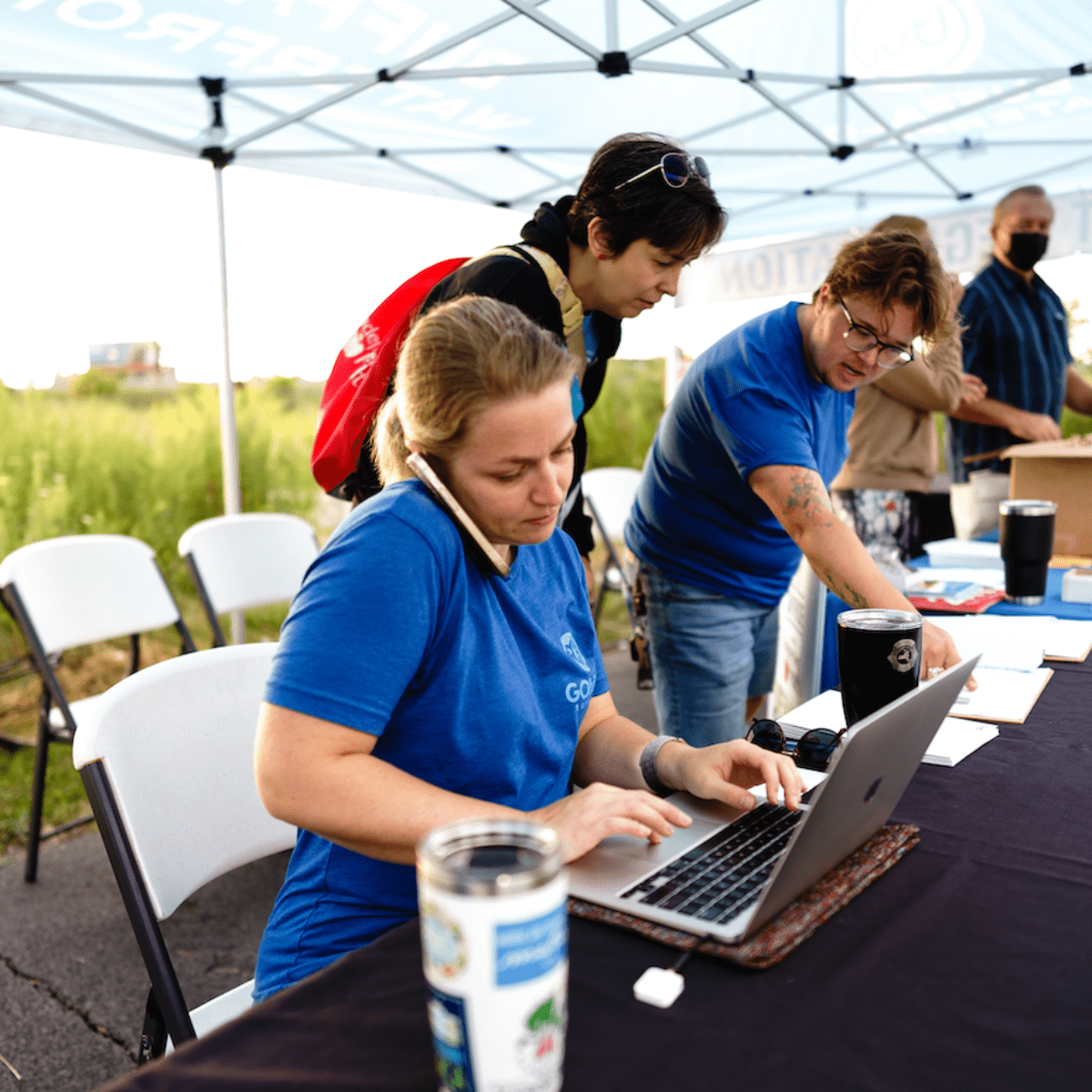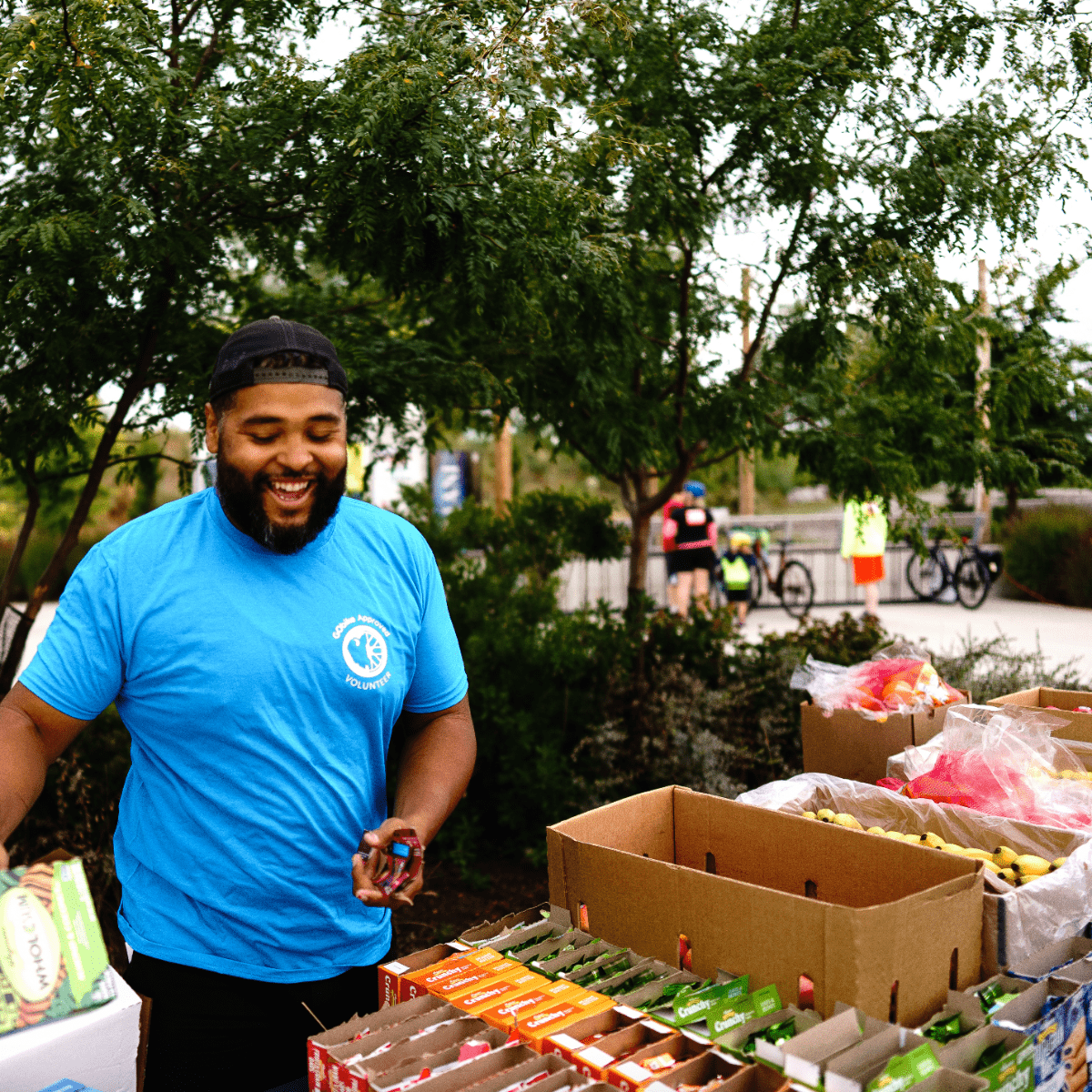 We hope as many people as possible take advantage of early packet pickup, but we know that's not easy for everyone.
SkyRide registration opens at 7AM, and the ride launches at 8:45AM. Please give yourself some time to arrive, park your bike, and get your registration packet if you haven't already. We'll have two lines:
– Pre-Registered (5-10 minutes in line max)
– Day-of Registration (15-20 minutes in line)
SNACK
While multiple food vendors will be present after the ride, your morning will be delicious thanks to sponsor Wegman's with fruit, granola, water etc.
RUNNING LATE? DON'T PANIC
You know we never want you to speed in your car. We'll keep registration open unti 9:45AM. You can always hop in after things have begun. You'll just miss the fun of the masses taking off together.
AS MANY LOOPS AS YOU'D LIKE

At 8:45AM, we'll all launch together! We ride down Fuhrmann, and then loop around Laborer's Way, Union Ship Canal, Tifft, and then get on the Skyway! Get all the way downtown, loop around at Church, back up and over, and repeat!
When you'd like to exit to start your party time, use the off-ramp at CSI Sands.
Post-ride party starts just after 10A.
Everyone must be OFF that Skyway by 11:30.
Post-ride party goes until 1:00PM with food trucks, vendors, music, drinks.
IS YOUR BIKE READY FOR IT?
If you need us to do a tuneup for you, drop it off at 313 Broadway while we're open 12P-6P on Wednesday. We should be able to get it back to you Friday/Saturday. They start at $65.
Want to fix it yourself?
OPEN SHOP: Tuesday 5P-8P at 98 Colvin
OPEN SHOP: Wednesday 5P-8P at 313 Broadway
OPEN SHOP: Saturday 12P-3P at 313 Broadway
THAT MAY NOT BE ALL THE ANSWERS YOU NEED
But, on our website, it's likely we have answered them already! From e-bike Tier 1 allowed, to children riding with you, and anything else. Check it out here.
SEE YOU IN THE SKY SUNDAY!!!!