Organization has grown to 13 full-time employees and three part-time employees performing transportation design and implementation, bicycle education and repair, and safe streets advocacy in six Western New York counties.
Community Workshop will increase accessibility in the East Side to affordable bikes and parts for sale, offer DIY and paid repair services.
After operating a community workshop at 98 Colvin Avenue in Buffalo since 2004 (which is still operational), GObike held a ribbon-cutting ceremony today to officially open their new offices that combine their transportation design, planning, and implementation team, their education, advocacy, and community engagement team, and their bicycle repair and retail team under one roof.
GObike's headquarters at 313 Broadway consist of the M&T Bank Community Education Center on floor one which refers to the opportunity for children and adults in the community to come inside, put their bike up on a stand, and learn from GObike's mechanics exactly how to use tools and identify parts used to repair and fine tune their bikes. This helps people to confidently begin riding and keep riding, no matter what obstacles in the roadway may affect their bike.
On the second floor is the KeyBank Design Studio which refers to the roadway design work that GObike's professional planners and engineers conduct in municipalities around Western New York. This work designs and constructs Complete Street Pop-Ups, temporary road projects that increase accessibility on streets and roads for people out walking, riding, rolling, using public transit, and increase safety for all those users as well as drivers. GObike also works to construct off-road trails and greenways in urban, suburban, and rural communities.
View this post on Instagram
"It was important to our organization to open a new operation in a neighborhood that lacked access to a bike shop. On Broadway, we're not far from downtown, but also in the middle of Willert Park, where there are a lot of families and schools, and an increasing amount of safer infrastructure with new bike lanes on Broadway, Clinton, and William Streets," said Justin Booth, Founder and Executive Director of GObike.
"We're extremely thankful to our corporate and foundational partners and our elected officials in Buffalo and Western New York that see the value of increasing access to active mobility, and making it safer for people of all ages and abilities to get around. With their support, we're creating a healthier region, with amenities and infrastructure that make Buffalo an ideal city to live and do business in," added Booth.
Inside the workshop at GObike's headquarters, they'll be selling new standard and electric bikes and new parts for the first time in their history, alongside even more affordable used bikes and parts that their members became familiar with over the last 19 years. Pay-for-service is also available for those who may not have the time to repair or tune up their own bikes. Open Shop, a classic component of GObike's offerings, will be ongoing every week 5:00P – 8:00P on Tuesdays at 98 Colvin, and 5:00P – 8:00P on Wednesdays and 12:00P – 3:00P on Saturdays at 313 Broadway.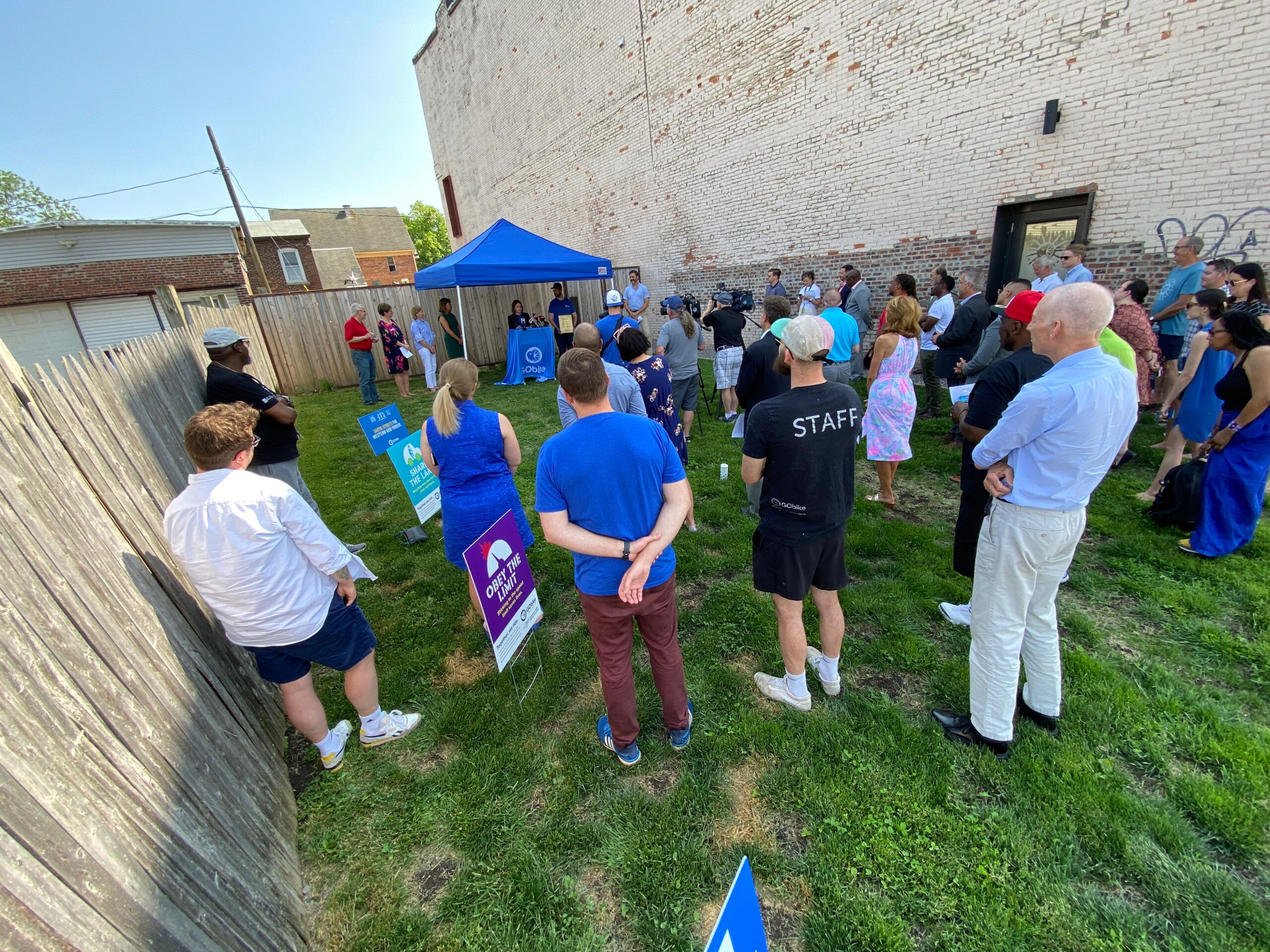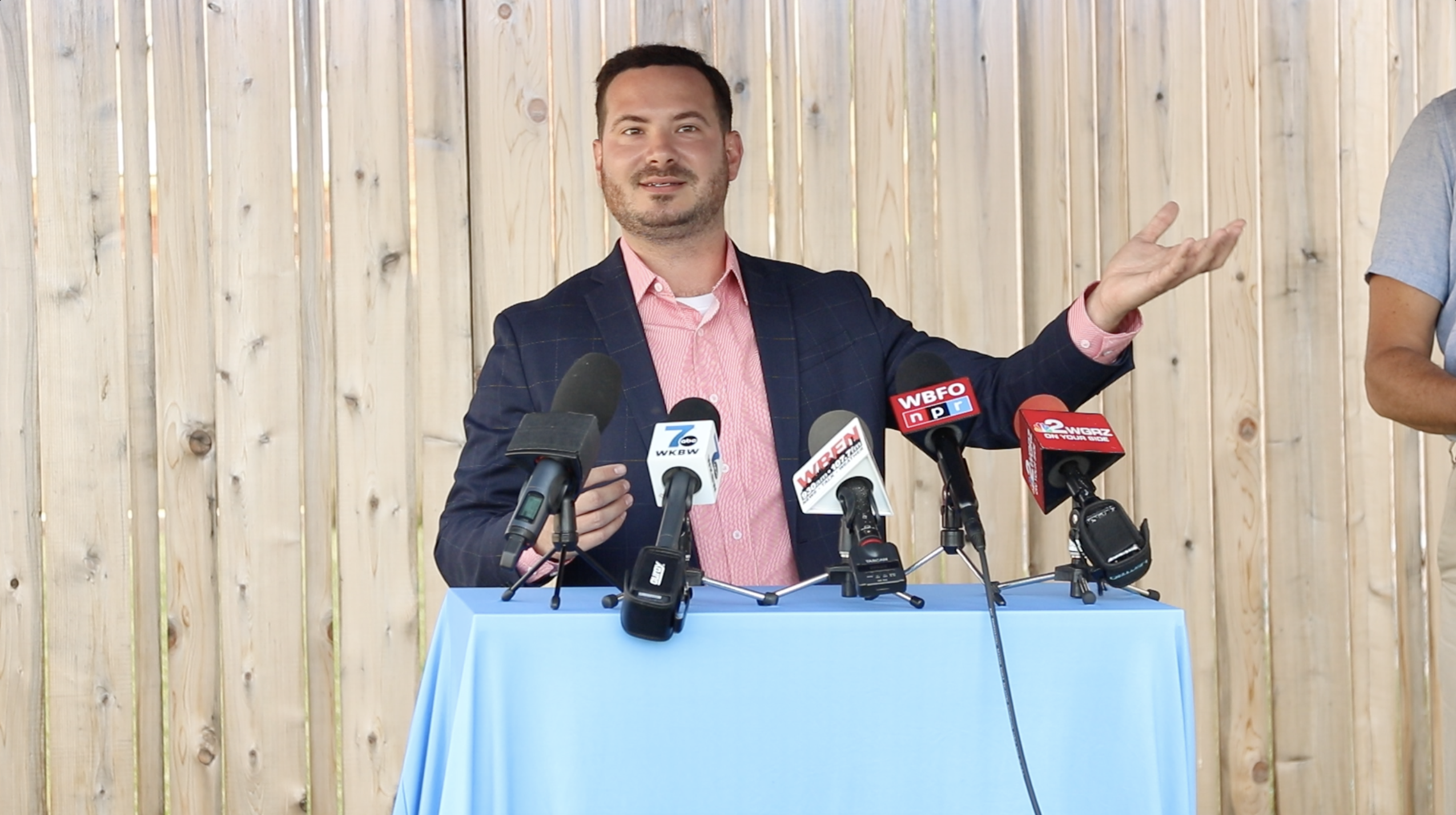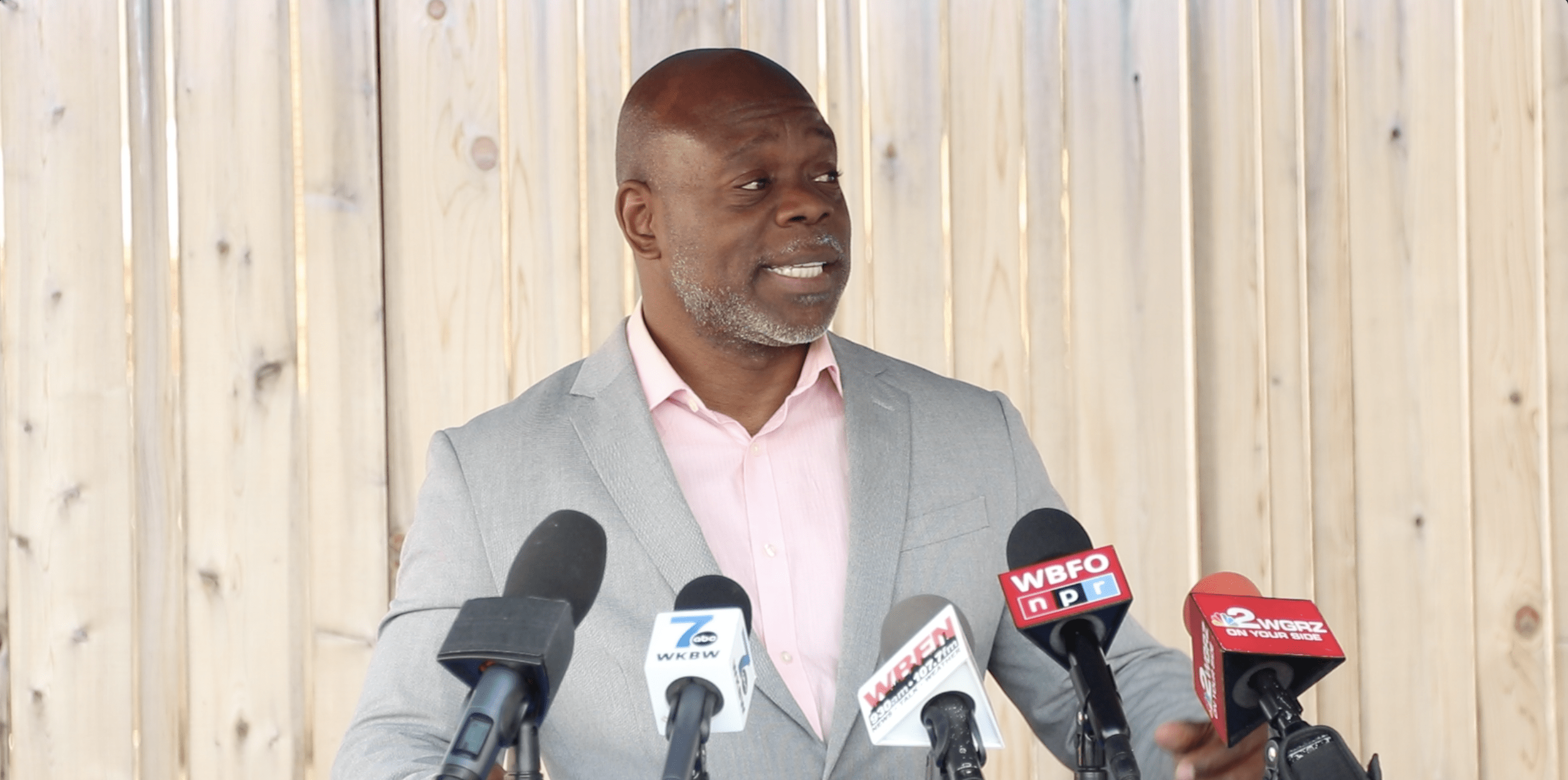 New York State Senator Tim Kennedy
"Gobike's advocacy and presence within Western New York is evident everywhere you look – from the complete streets projects that streamline accessibility and safety for all roadway users, to the various hands-on, collaborative initiatives that they spearhead throughout our region," said Senator Tim Kennedy, Chair of the Senate Transportation Committee. "I've been proud to partner with them on a number of policy reforms, and I'm grateful for the continued work they do to prioritize sustainability and connectivity across all of New York. This new headquarters will further fuel their important mission, and will ensure that even more people have access to the key services they provide."
Buffalo Common Council member Mitch Nowakowski
"I have been proud to partner with GOBike throughout my time in office because of the great work they do in the community. This new headquarters is just another illustration of their commitment to residents in the city of Buffalo."
New York State Assemblymember Jonathan Rivera
"From North Buffalo to Hamburg, and now the East Side of Buffalo, GObike Buffalo has changed the way we view our shared roadways. Their new headquarters on Broadway allows them to expand their services and amp up their advocacy. I congratulate them on this new milestone and can't wait to continue working with the entire team on complete streets planning, neighborhood infrastructure, and mobility issues."
New York State Assembly Majority Leader Crystal D. Peoples-Stokes
"Congratulations to GoBike Buffalo on opening its new HQ on Buffalo's Eastside. We commend Justin and the GoBike Buffalo team for many years of championing alternative mobility and transportation methods for WNYers without cars, advocating their shared vision for safe streets and routes to school, and their willingness to train individuals on bike repair and providing the service for the public," commented Assembly Majority Leader Crystal Peoples-Stokes.
New York State Senator Sean Ryan
"GObike has been a proud advocate for the improvement of Buffalo's transit for years. The shift toward safer streets can be seen in places like Niagara Street, where traffic reform initiatives are keeping riders and pedestrians safe every day. I'm sure this new location will help foster growth and allow GObike to continue to inspire change."
Erie County Legislator Howard Johnson
"You know a few years ago, you wouldn't think it would be possible to be opening up a bike shop over here or even talking about biking, but thanks to those who've been planting the seed. It's here. Not just Justin Booth, but also George Johnson who has been such a big advocate for biking over the years, it's just remarkable. So I'm impressed by what I've seen inside, how you've reused the space, and know how much this means to our community.
Patricia Farrell of M&T Bank
At M&T Bank, we invest in our community to make a difference in people's lives – which is why we're excited to support GObike's new headquarters on Buffalo's East Side," said Patricia Farrell, Head of Sales for the WNY Division of Wilmington Trust, a subsidiary of M&T Bank, and a GObike Board Member. "The M&T Bank Community Education Center will serve as an essential resource to increase cycling accessibility for people of all experience levels and backgrounds. It will help more of our neighbors become confident, active riders, and more bikes on our streets will further strengthen the vibrancy of our city's neighborhoods.
Elizabeth Gurney of KeyBank
"KeyBank is proud to support the critical role that Gobike Buffalo plays in our community, providing everyone with tools and resources to promote and grow an active, mobile and sustainable culture," said Elizabeth Gurney, Director of Corporate Philanthropy at KeyBank. "Their efforts are having a positive impact on wellness, our environment, our streets, and our economy. Buffalo is better because of Gobike's work to empower communities through advocacy, education, planning, and engagement."
Dr. Michael Cropp CEO of Independent Health
"Congratulations to GObike on its new operation and bike shop. At Independent Health, we are committed to creating a culture of health in Western New York, especially in underserved communities, and GObike's new location aligns perfectly with our mission," said Michael W. Cropp, M.D., president & CEO, Independent Health. "Bicycling has proven health benefits, including improved cardiovascular fitness, decreased stress levels, and reduced body fat levels. Partnering with like-minded organizations, like GObike, further engages and encourages people to take control of their health and stay active, all while having fun along the way."
Kathleen Rizzo Young of Evans Bank
"All of us at Evans Bank congratulate GObike on their new headquarters, which will be a tremendous asset to the neighborhood," said Dale McKim, Evans Chief Risk Officer and a Board Member of GoBike. "We are proud to partner with GObike Buffalo on the upcoming 'Ride Reels' bike film screening series at the Burchfield-Penney Art Center which will feature content made in our city, across the country and around the world that highlights cycling, sustainable transportation, design, and community."
After a very successful Bike Month in May, GObike encourages Western New Yorkers to continue riding, and gathering with other cyclists for events. On June 14, GObike hosts Ride Reels presented by Evans Bank, a bike film screening event with a mixer and panel at Burchfield Penney Art Center. And on July 16, SkyRide presented by Independent Health returns to Buffalo, where an estimated 1,500 cyclists will ride over the closed-to-cars Skyway. This year's activities now include a competitive race at 7:00AM before the casual ride at 8:30AM, all followed by a tent party along the water at Outer Harbor.