Innovative, Replicable Projects Will Reduce Air Pollution and Expand Electrification and Mobility Options in Underserved Communities Across New York State
 Supports Climate Leadership and Community Protection Act Goals to Reduce Greenhouse Gas Emissions by 85 Percent by 2050
Today, GObike was proud to stand with coalition members who joined LISC WNY (Local Initiatives Support Coalition of WNY) to be awarded a grand prize in the Clean Neighborhoods Challenge of New York's Clean Transportation Prizes Program. Coalition members included The Council for Economic Justice, East Side Bike Club, Open Buffalo, Shared Mobility Inc., Reddy Bikeshare, Mobility Development Operations, Hallmark Planning & Development, Heart of the City Neighborhoods, and Buffalo Niagara Medical Campus.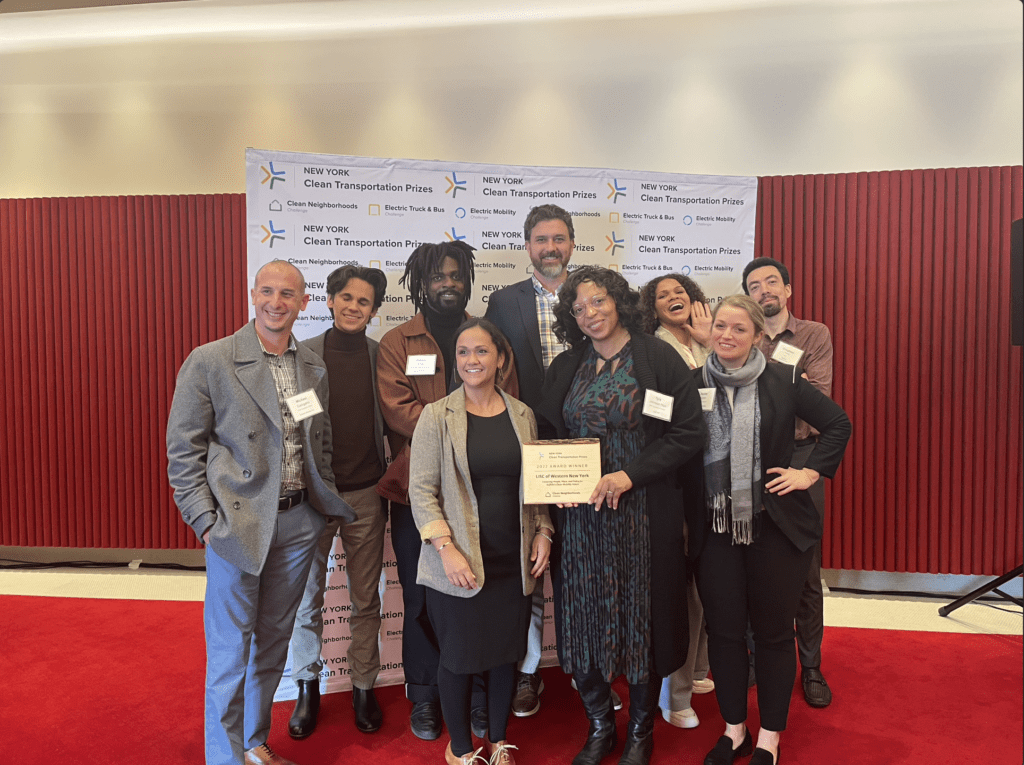 Governor Hochul today announced ten grand prize awards as part of the $85 million New York Clean Transportation Prizes program to enhance clean transportation, improve mobility options, and reduce harmful emissions through innovative transportation solutions. Administered by the New York State Energy and Research Development Authority, in partnership with the New York State Department of Public Service and the New York State Department of Environmental Conservation, the selected replicable projects represent transformative investments in underserved communities across New York State. This announcement supports the State's nation-leading Climate Leadership and Community Protection Act goals of reducing greenhouse gas emissions by 85 percent by 2050 and that at least 35 percent, with a goal of 40 percent, of the benefits of clean energy investments be directed to disadvantaged communities.  
"I am proud to be providing the most significant investment yet in clean transportation for historically underserved communities in New York State," Governor Hochul said. "Improving access to clean mobility options, electrifying trucks and buses, and supporting projects that reduce air pollution modernizes the way residents and visitors access community services, recreation, and work opportunities while creating jobs, improving health, and reducing the impacts of climate change."  
"Today is a triumph for New York's nation-leading investments in cutting-edge clean transportation solutions and models to benefit historically marginalized communities," said Lieutenant Governor Antonio Delgado. "Through the Clean Transportation Prizes program, grand prize awardees created forward-thinking projects that reflect critical community input to address transportation gaps, help foster local clean energy jobs, and reduce pollution in the areas that need it most."   
Lieutenant Governor Delgado made the announcement at an awards ceremony held at the TWA Hotel at John F. Kennedy International Airport in Queens, New York, following a day-long showcase event where finalists announced under Phase One of the program presented their cutting-edge technology and service solutions.  
Grand Prize Awardees  
In Phase Two of the program, the grand prizes totaled $82 million, with an additional $3 million awarded to 17 finalists under Phase One of the program in January 2022 to enhance their proposals with professional planning guidance and community feedback. Updated proposals were then submitted under Phase Two of the program and considered for grand prize selection.  
Clean Neighborhoods Challenge:   
Three grand prizes of $10 million each were awarded to projects that address air pollution reduction at scale in underserved communities.
New York City:  
Clean Transit Access Program – Electrifying NYC Dollar Vans led by Dollaride  
The Bronx is Breathing: Reimagining a Cleaner Hunts Point led by Volvo Technology of America, a subsidiary of Volvo Group North America  
Centering People, Place and Policy for Buffalo's Clean Mobility Future led by Local Initiatives Support Corporation Western New York Office  
Electric Mobility Challenge:
Four grand prizes of $7 million each were awarded to projects that demonstrate electric mobility options that solve underserved community needs.
Long Island:  
Promoting Sustainable Transportation: Electric Micro-Shuttle Services in Long Island led by Circuit Transit Inc. (through TFR Holdings Corp.)  
Project MOVER: Moving onto Vast E-Micro-mobility Replication led by EIT InnoEnergy USA  
Red Hook Recharge Zone led by Revel Transit  
Tompkins County Transportation Equity & Access Project led by Tompkins Consolidated Area Transit  
Electric Truck & Bus Challenge:
Three grand prizes of $8 million each were awarded to projects that demonstrate electrified solutions or replacement of medium- and heavy-duty electric vehicles.
Mid-Hudson, New York City:  
Freight Electrification-as-a-Service for Transformation led by CALSTART  
Accelerating New York Fuel Cell Bus & Hydrogen Infrastructure Deployments led by Krueger Transport  
Electrifying School Buses in the Bronx led by New York City School Bus Umbrella Services
Doreen M. Harris, President & CEO, NYSERDA and Co-Chair, Climate Action Council said, "We are proud to have partnered with state agencies, innovators, and utilities to support solutions that are at the forefront of overcoming transportation barriers in underserved communities. These replicable solutions represent the best in innovative transportation and highlight how we as policy implementers, innovators, and community partners can work together to help increase clean transportation options across the Empire State."
New York State Department of Environmental Conservation Commissioner and Climate Action Council Co-Chair Basil Seggos said, "Targeted efforts to reduce vehicle emissions in communities that are disproportionately impacted by pollution is critical to create a cleaner transportation sector and protect public health. Under Governor Hochul's leadership, New York's Clean Transportation Prizes program continues to invest in sustainable solutions that meet the needs of families in underserved communities, advance our state's ambitious greenhouse gas emissions reduction goals outlined in the Climate Leadership and Community Protection Act, and move our state toward a greener, healthier future."  
New York State Public Service Commission Chairman Rory M. Christian said, "I applaud Governor Hochul for her continuing support for innovative clean transportation and mobility solutions to solve the pressing transportation needs of underserved communities. Through this strategic collaboration, we are accelerating the State's transition to a clean transportation future by deploying equitable solutions that lower carbon emissions, improve air quality, and create healthier communities for all New Yorkers."  
New York State Department of Transportation Commissioner Marie Therese Dominguez said, "The State Department of Transportation is proud to support and partner to implement Governor Hochul's nation-leading agenda to combat climate change and the ambitious goals of the Climate Leadership and Community Protection Act. Through forward-thinking initiatives like the Clean Transportation Prizes program, we can promote greener modes of travel that help reduce vehicle emissions, improve air quality and enhance public health and quality of life in communities all across New York State." 
Thomas Falcone, Chief Executive Officer, Long Island Power Authority said, "The Long Island Power Authority is proud to support Governor Hochul's agenda to combat climate change by addressing clean transportation in underserved communities throughout the state. By investing in these initiatives, we will continue to promote sustainable transportation, drive carbon reductions in a sector that contributes almost a third of carbon emissions in New York and create healthier communities for families across Long Island and our state."  
State Senator Tim Kennedy said, "As we continue to implement the goals of the Climate Leadership and Community Protection Act, New York State is stepping up to address the impact that transportation systems have on neighborhoods. By investing in clean transportation, we are directly addressing one of the leading contributors to climate-altering emissions while ensuring that New Yorkers remain on the move. These grants will support our economy and our environment."  
Assemblymember Michael Cusick said, "Reducing greenhouse gas emissions from transportation and finding innovative solutions to increasing clean energy efficiency are what's needed to meet New York State's CLCPA goals. I congratulate the winners of the New York Clean Transportation Prizes program for their creative ideas and their commitment to New York State to help ensure a cleaner environment for our State's future."  
Renae Reynolds, Executive Director of Tri-State Transportation Campaign said, "Tailpipe emissions are a primary contributor to respiratory illnesses and premature deaths in many disadvantages communities. Getting more people out of cars and onto mass transit is the most effective way to fight air pollution and climate change, and it's even more impactful when transit is electrified. We hope the projects presented today will bring us closer to a cleaner, more sustainable future, and we congratulate those who made it to the next round."
Kathy Harris, Clean Vehicles and Fuels Advocate for the Natural Resources Defense Council said, "NYSERDA's support of clean transportation programs will not only help to reduce transportation emissions, but will also help improve air quality and health in communities overburdened with transportation pollution. Transitioning to zero-emission transportation and increasing mobility options for New Yorkers is a key strategy to improving air quality and the quality of life in communities across the state. We look forward to seeing New York continue to advance policies and programs that support an equitable transition." 
The grand prize awardees will be encouraged to hire a fellow under NYSERDA's Climate Justice Fellowship when applications open later this year. Through that program, one full-time fellow from the community in which each project takes place or from a priority population can be hired to work with the grand prize awardee. NYSERDA and the National Renewable Energy Lab will support the effort with NYSERDA providing funding, directly or indirectly, for fellow stipends and NREL providing training, educational materials, research, and other support.
NYSERDA and the prize awardees will actively monitor the projects to measure their impacts as compared to community needs and New York State's Climate Act goals over the next three years. Each awarded project, and the overall program will be assessed, and results will be shared through reports and online updates to encourage the advancement and replication of innovative transportation models.      
The prize program is funded by investor-owned utilities through New York State's $701 million EV Make Ready program to boost access to charging stations, electric vehicle infrastructure and other clean transportation options, and support equitable access and benefits for lower-socioeconomic and disadvantaged communities. The Long Island Power Authority partnered on the New York Clean Transportation Prizes program to fund the award on Long Island under the Electric Mobility Challenge.  
For more information on all program finalists, please visit the New York Clean Transportation Prizes website.  
New York State's $1 billion investment in electrifying its transportation sector is vital to meet the State's sweeping climate and clean energy plan. The State, under Governor Hochul's leadership, is rapidly advancing measures that all new passenger cars and trucks sold be zero emissions by 2035, along with all school buses being zero emissions the same year. Reducing carbon emissions and pollution from vehicles creates cleaner air and healthier communities, particularly in underserved areas. A range of initiatives grow access to electric vehicles and improve clean transit for all New Yorkers including EV Make Ready, EVolve NY, the Drive Clean Rebate, the New York Truck Voucher Incentive Program, Charge NY and federal funding under the National Electric Vehicle Infrastructure Program.  
New York State's Nation-Leading Climate Plan  
New York State's nation-leading climate agenda is the most aggressive climate and clean energy initiative in the nation, calling for an orderly and just transition to clean energy that creates jobs and continues fostering a green economy as New York State recovers from the COVID-19 pandemic. Enshrined into law through the Climate Leadership and Community Protection Act, New York is on a path to achieve its mandated goal of a zero-emission electricity sector by 2040, including 70 percent renewable energy generation by 2030, and to reach economy wide carbon neutrality. It builds on New York's unprecedented investments to ramp-up clean energy including over $35 billion in 120 large-scale renewable and transmission projects across the state, $6.8 billion to reduce buildings emissions, $1.8 billion to scale up solar, more than $1 billion for clean transportation initiatives and over $1.6 billion in NY Green Bank commitments. Combined, these investments are supporting nearly 158,000 jobs in New York's clean energy sector in 2020, a 2,100 percent growth in the distributed solar sector since 2011 and a commitment to develop 9,000 megawatts of offshore wind by 2035. Under the Climate Act, New York will build on this progress and reduce greenhouse gas emissions by 85 percent from 1990 levels by 2050, while ensuring that at least 35 percent with a goal of 40 percent of the benefits of clean energy investments are directed to disadvantaged communities and advance progress towards the state's 2025 energy efficiency target of reducing on-site energy consumption by 185 trillion BTUs of end-use energy savings.