We're excited to relaunch SPOKE FOLK where we highlight various members of the biking community, talk briefly about what drew them to cycling, why and how they continue to do so today, and what they'd like to see in Western New York's ongoing shift toward being a more cycling-friendly region.
We had a really inspiring talk with Shannon Traphagen earlier this year about her experience and the culture of cycling in Buffalo's south towns.
GObike:  When did you start cycling?
Shannon Traphagen: I actually got into biking through my late husband. Mike was an avid biker since he was a teenager. He started out with dirt bikes and dual-sports and then he got into mountain biking heavily. That translated into riding into adulthood. So when he and I met, I was 24. When we started dating, he mountain biked everywhere. Letchworth, Spraguebooke, Chestnut Ridge, trails out in Syracuse.
Originally, he was asking me to mountain bike with him – he got me a Jameis mountain bike. I tried, but just didn't fall in love with it the way he did. It scared me to jump those roots!  So I navigated toward road cycling and gravel grinding, Dirt paths were fine, but I wanted off the heavy trails. So by 26-27 I got my first road bike, a Specialized. Funny enough I converted him into road cycling through my love for it. I upgraded to my current bike – Specialized Dolce Evo Comp. I put some gravel tires on it when I need.
Mike would ship his bike around! He once shipped it to England so we could mountain bike in Whales and the Countryside out there.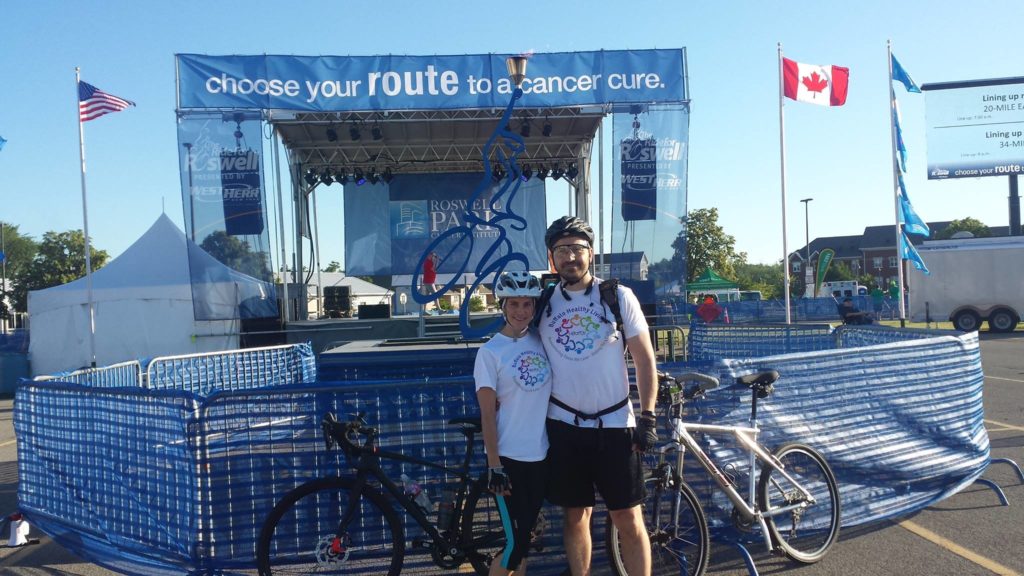 GB: Where you ride most often now?
ST: I'm living in Hamburg now. What I will say is that the south towns are much more bike friendly than many of the north towns. Hamburg, Orchard Park, Eden, some Boston Hills, really bike friendly. Orchard Park widened Chestnut Ridge Road just to increase safety for bikers.
I feel pretty safe when I'm biking around the south towns. Everyone seems to be very aware. Hamburg has signage and bike lanes, always reminding drivers to be mindful. Every time I go around a rotary in Hamburg, cars happily let me in with them. It's a great experience. The scenery out here is so amazing that it's just fantastic. Hamburg and the other south towns have become very adept and very accommodating.
GB: Who do you ride with these days?
ST: I've gone out with small groups. I want to connect with larger cycling groups this year. After my husband died, there was a need for connection, and that's where I'd like to meet new people.
There are a couple different rides out here. Love and Sprockets takes out a small group. The Village of Hamburg also has a Facebook page, where they do some group cycling – novices and smaller rides. A lot of my riding is 2-4 people in a group. It's really casual. I'll ride 20-30 miles. Depends on how long I went during the winter without riding. My goal is to do a 60-mile ride this summer. Mike did one once all the way to Rushford once. He trained for six months for that.
If I squeeze in a quick ride, it's 10-20. I just love to zen out, especially if I'm riding alone, I don't have to worry about our group's speed. So I juggle between riding alone and some friends on rides.
GB: What would you say those thinking about getting a road bike and riding further?
ST: My advice to those considering road cycling, definitely talk to an expert at a store, a shop. Get some tips and practices. Try to connect with a group. When you're first starting out, it's better to ride with some folks who can demonstrate the safety protocols. Keep a charged phone on you. Learn the hand signals YOU should be using on the road so you can communicate with cars. Bright colors! It's OK to listen to music, but keep one ear free for traffic, or use a speaker. If you're thinking about clipping into your pedals, practice your dismount on the grass quite a few times. I even practiced indoors where my bike was propped up. With enough practice, you'll be fine out on the road with them.
Finally, you need a great fit! You want to be comfortable during and after a ride, and a great fit can make that happen.
GB: What's Traphagen's Ride 4 Brain Cancer look like?
ST: Traphagen's Trail Ride 4 Brain Cancer  is an annual ride that takes place every October – October 15 this year – in the south towns.
We'll be doing it in Hamburg again this year There's a shorter ride around the village, and a longer ride around Boston Hills and Eden about 15 miles. Food at the after party! Everyone will sign a waiver and donate at least $50 to participate. Fundraising goes this summer and through the day of the ride. 100% of proceeds to go RPCI Brain Cancer division. It's a way to honor Mike and the passion and love we both had for cycling, bring people together, get people interested in cycling and its health benefits. There's also a 3-5 mile walk around the village if you choose not to cycle.
Last year was the inaugural event with over $11,000 raised from 75 attendees and 37 riders. This year, we're aiming for more riders. We got help from Tom's Pro Bike to get quick tuneups for people's brakes and chains and we expect them to return as well.
This event has been such a stress reliever for me. It's healing. Just like biking. Something so special about being out in that space and connecting with your bike and your community.