Pat Cray is one of the best photographers in Buffalo's Instagram realm, and with so many of his photos glorifying our favorite thing – bikes – we had to talk to him and see what he's all about and what he gets out of riding and taking photos around town.
Photos of Pat are by Luke Medina on our staff. Photos of everything else are from Pat himself. Check him out at @yungpainkiller.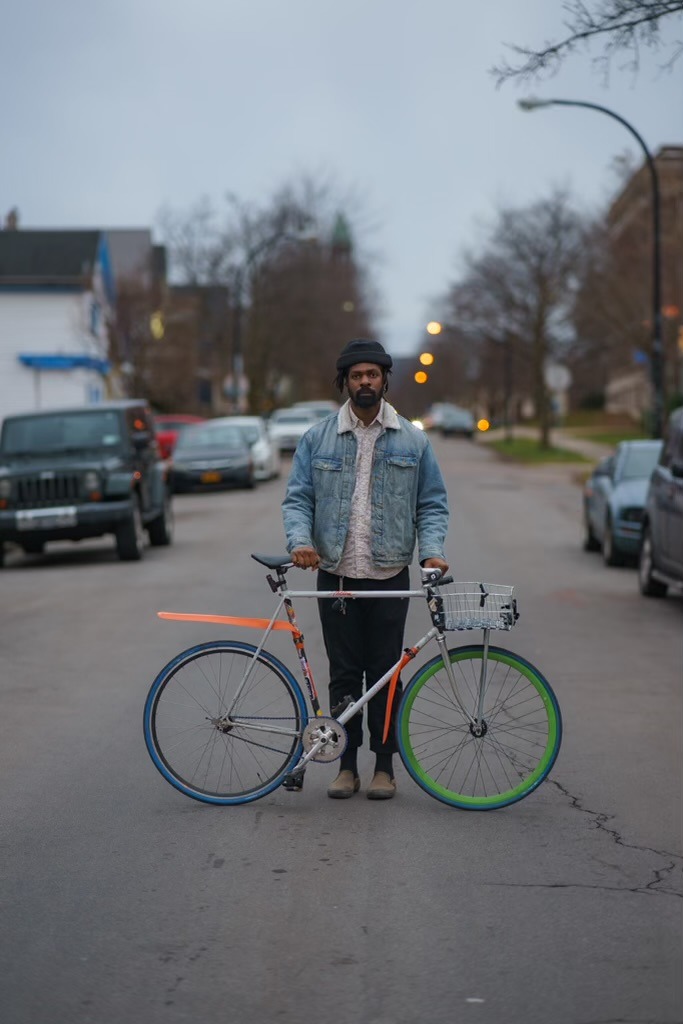 GB: Can you tell me about yourself?
Pat: My name is Pat. I work for Shared Mobility Inc. I am the Social Media Analyst and Community Outreach Coordinator over there. I also run my own photography business, and I am a year-round cyclist, riding on a fixie.
GB: How did you get into cycling?
Pat: I used to be a big car person a few years ago. Like, I had multiple cars. I realized how much money I could save without them. I also realized that most of my commutes were under three miles one way. Around 2015, I sold my cars, got on a bike and the rest is history.
GB: How do you manage to ride in the rain and the cold?
Pat: Normally I wear waterproof boots.I'm not a big fan of the look of waterproof pants, so I don't really wear waterproof pants. But I wear a waterproof top and a waterproof jacket. I have a winter bike, it's a steel frame, steel everything. Converted over into being a track frame. There's rear and front fenders. The basket on the front also helps with splashes.
You just gotta get adjusted. Just doing a couple days of cold riding with the right setup and you'll be used to it. Like, the number one thing is gloves like good gloves, a good jacket, and a good hat.
GB: What would you like to see in Buffalo that might encourage more year-round riding?
Pat: I think one of the number one things is we need to have better shared roads and better understanding of what a shared road is. For instance, we're looking at Elmwood right now, it's technically a shared road but it also feels like a death trap, especially in wintertime. There's nothing on the road that protects cyclists and nothing slowing cars down, other than the road itself being narrow. I would rather take Ashland or Norwood because there's less traffic and less drivers pulling in and out of parking spots.
If there's a focus from the city to encourage biking then I just think that parking spaces should be limited on some of the major streets.
GB: Does your lifestyle of being a bike commuter influence or inspire your photography in any way?
Pat: I just started doing photography probably around January 5th last year. The pandemic had gotten me out taking pictures, I needed an outlet and a way to express myself. It started by me riding my bike therapeutically, finding fascinating places around the city, and capturing photos of them. To this day, it's kind of still like that, but I'm just a little more experienced and am fortunate enough to be working as a photographer.
Biking has been very influential in that journey. I told myself, when I finally bought my first camera, that I would get on my bike and take at least one picture every single day. I've kept that routine and the only way to do that is to keep riding my bike throughout the city. Now I ride around like 15 to 30 miles a day. Sometimes more, sometimes less. I just explore, find cool stuff, and take pictures, all bikes. For me, they go hand-in-hand. It's truly like my escape from reality. Any inconvenience in my life I use as an excuse to get out on my bike and take pictures. Somehow, it's been working out, and I'm extremely grateful.