Nick Czekaj is a well-traveled Western New Yorker with two loves: Buffalo and riding his bike. As a former Peace Corps member, his experiences abroad have given him a unique appreciation for his hometown. Nick has been regularly volunteering at our workshop, and we thought it would be great to highlight his experiences and perspective.
GObike:
What's your relationship to Buffalo?
Nick:
My relationship with Buffalo has really been unlearning my distaste for Buffalo; because growing up in the suburbs, I got an idea of the city that was like, "Ew, Buffalo, gross." I have this guilt  about feeling that way, having the mentality that this isn't a place. What makes nice places are people who want to be here, be present, and be proactive. It wasn't until college that I really heard anybody talking positively about the city.
But after coming back from China, I had gone on some group rides and got re-integrated with the community, and this is a happening place! It's not like, every single street corner has people milling about and things like that. But there's a lot of new restaurants and infrastructure being built in the city, and this place really has its own vibe that stands out from other places. Especially in contrast to China, which is like a homogenous, sort of ethno-state where everything seems centered around order. I liked coming back to Buffalo and seeing every kind of person doing every kind of thing. The culture and subculture here is refreshing, and speaks to the freedom of expression Buffalonians have. That that sense of freedom is not something you get everywhere.
It's a really exciting time, with that Biden bill. Hopefully there will be money that's going into infrastructure, on top of the Buffalo Billion. Hopefully you'll see some really interesting developments in the city more than we've already seen. I'm excited to be a part of that.
GB:
You mentioned that you lived in China for a little bit. Tell me a little bit about your experiences abroad.
Nick:
My first experience was a study abroad program in France, which I had no idea what that would be like. But as I mentioned before, I felt the need to get out of Buffalo and into the world – not really understanding or appreciating that Buffalo is part of the world. But France was great, because you got a new perspective on how things can function. I mean, like, the size of the city that I was in was much smaller, and is much more walkable and bikeable. There was a lot less car traffic, and it still functioned. I thought to myself, "Oh, wow, this is much better as a human to be living," because cities should not be built for cars, they should be built for humans. But seeing that for the first time, I didn't really have the language to describe it. But I knew that what they had there was something really worth thinking about.
Then there was the Peace Corps in Morocco. The way that experience affected me was to really appreciate what I have, and to embrace hard work. It did have a sense of community that you don't get as much here. People really cared about each other. Arab culture, in general, is more communal, and more family oriented. That was also something to learn from. Then I took that drive to dedicate myself to do some good work.
Then there was my most recent experience in China, where I taught English. I also taught English in Morocco, but in China my setup was a little more structured. I had lesson plans, materials, a solid schedule, whereas in Morocco I had less materials and support. But I loved all of those experiences and they were really good for me.
GB:
Besides bike lanes and infrastructure, how do you think we can improve as a country based on those experiences abroad that you had?
Nick:
Well, we have to do some work on ourselves, at the root, at a very basic level. I think we need to understand more about each other as a society. Get used to listening to each other more, on all sides of the spectrum. We need to get reacquainted with civility. Realize that disagreements are okay, as long as you remain civil and respectful. I feel that if we get back to those basics as a society, then we can be many steps closer to positive changes, such as improving our infrastructure. I also think that we as citizens should focus the energy to change things on a local level rather than a federal one.

GB: 
In regards to transportation, rideability, and safety, what kind of changes would you like to see on a local level?
Nick:
This goes back to what I mentioned earlier, but I think for anything big to happen we need to cultivate more empathy in the city. I think until you get on a bike and go for a bike ride, you don't really appreciate the communal and political act that you are doing. We're creating a better community by choosing alternative means of transportation. It's doing better for our Earth and our bodies.
But yes, I think that if there were more people biking, not only would there be a bigger push for bike infrastructure and alternative transportation, but it would affect driving behavior on our roads as well. I think more empathy for pedestrians will make drivers behave safer.
Aside from changing habits and behavior, I think one of the biggest things that you can do is keep creating those corridors and trails, like rails to trails and those new lanes on Niagara Street. Those are really great entryways for people that wouldn't otherwise even want to go on a bike ride. Make it more accessible to, you know, ride your bike, so it makes sense for you to utilize it more often. Unfortunately, we've designed our cities around the automobile, but that can change!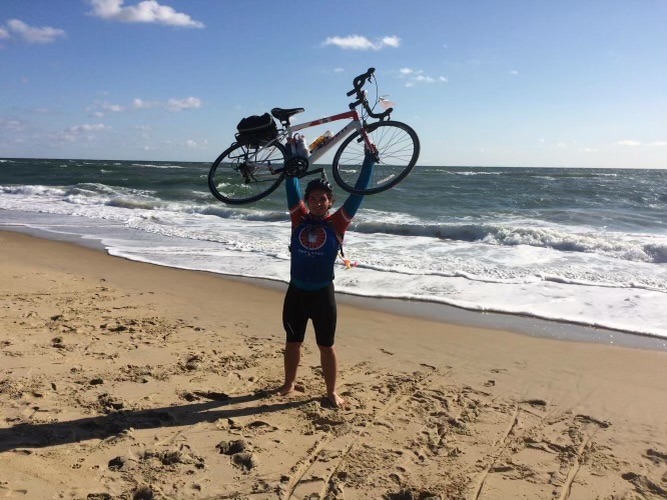 GB:
You've been volunteering at the shop a whole lot recently. What compels you to support GObike? What do you like most about the organization?
Nick:
I like any place that has a sense of community,  where people from different backgrounds and socioeconomics come together. That was one of the first things I noticed when I walked into the shop.  You've got some older folks coming in, homeowners and then you've got younger people, enthusiasts, people that are biking out of necessity, and so on. It's great, the more you get people interacting, the more you get that shared common ground and understanding. That can only ever do good things for the community. It's a  place that you can go and learn how to fix things up, practically for free. I think that it's a pillar for the community and for biking in the city and I love to be a part of it.