TL;DR: Missed Region Central's public meeting on the Scajaquada Corridor? Here's a quick recap!
First, some background: Region Central is an initiative from the Greater Buffalo Niagara Regional Transportation Council (GBNRTC), to reimagine the Scajaquada Corridor. It's comprised of the areas surrounding the Scajaquada Expressway, including Delaware Park, Buffalo State College, Forest Lawn Cemetery, and numerous other cultural institutions. Buffalo neighborhoods in this area include Black Rock, Delavan-Grider, Elmwood-Bidwell, Trinidad, Fillmore-Leroy, Grant-Amherst, Hamlin Park, Masten Park, Parkside, and Upper West Side.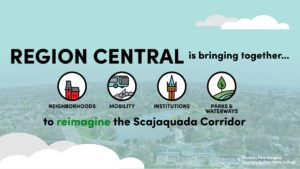 On Tuesday evening, the GBNRTC, along with representatives from planning and engineering firms (Highland Planning and Stantec Inc., respectively) on the project team, hosted a virtual public meeting to review mobility data (how people move around the corridor) and how that data will inform the development of the different plans and scenarios that will shape the future of Region Central. A recording of the event, along with the presentation slides, can all be found on the Region Central's website. Check it out; there's some really great nuggets in there!
The next event will be in-person, in early December — where different plans will be debuted to the public, through an open house and workshop. A survey will also be developed and shared to the public, to generate feedback on which scenarios work best for the community.
Join Region Central's mailing list to stay updated with the latest information. Don't miss out on your chance to shape Buffalo's future!