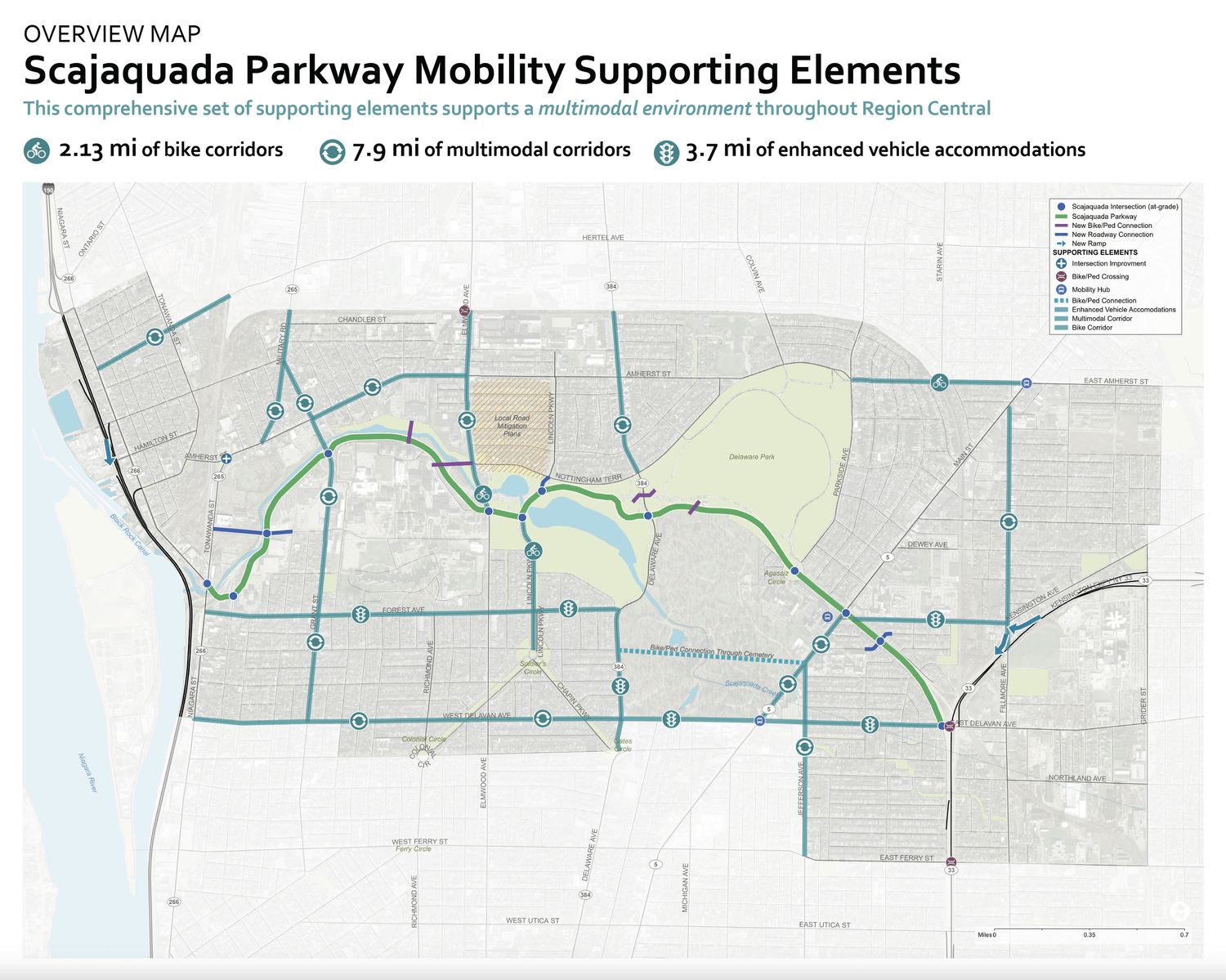 After 18 months of listening, stress testing, modifying, redesigning, GBNRTC has a viable plan.
We at GObike, and ALL of our partners within the Scajaquada Corridor Coalition, stand firmly behind these designs. Over 18 months of work, the GBNRTC has done an incredible job of listening to the community's concerns and weighing them against the realities of car traffic and behavior inside of "Region Central" (Scajaquada Expressway AND all the people living and working on the streets surrounding the expressway from Niagara Street to East Delavan Avenue).
The most critical piece of the proposed design is that it completely uncouples the 198 from the 33 Expressway and I-190 Thruway. That change alone opens a world of possibilities in terms of reclaiming green space, increasing safety for people on foot and on bike, and reconnecting the neighborhoods separated by the expressway.
Years of data collected by the NYSDOT and GBNRTC show that less than 15% of traffic even uses the 198 to go from one end to the other. That shows that the expressway was really just an extended on and off ramp for the traffic that used it, and that the removal of those connections would add negligible amounts of time to travel time. That's not just speculation either. Whenever the GBNRTC had a design they wanted to incorporate, they "stress tested" it out on the road to see how impactful their proposed changes would be before pushing forward.
That's where we're at today. Without a pie-in-the-sky plan, but with a researched, practical, and tested plan to correct one of the major blemishes on our city. The current expressway cuts through an Olmsted Park, pollutes a major regional creek, ensnares three colleges and universities, puts a nearly impassible barrier between neighborhoods, and has contributed to the city's economic decline since it was built.
What's on the table would fill in the sunken portion of the expressway between (a restored) Agazziz Circle and East Delavan and make it more closely resemble Lincoln Parkway. It would return the stone bridge over Delaware Avenue near Nottingham to cyclists and pedestrians. It would give Buffalo AKG Art Museum and Buffalo State University waterfront access. It would reconnect the the upper West Side and Black Rock with new roads and new pedestrian bridges.
So needless to say, we're excited. But we've got to be practical. This isn't impossible, but it's not guaranteed either. It just needs to get passed the NYS DOT. Before we think all hope is lost in the face of DOT's car-first, car-fast policies and all their subsequent destruction, look at the removal of Robert Moses Parkway in Niagara Falls. Watch the ongoing removal of the Inner-Loop in Rochester, the beginnings of the removal of I-81 in Syracuse. In every one of those cities, loud voices cried out about new traffic patterns, their commute times, and an inability to leave a few minutes earlier. In every one of those cities, the project moved forward anyways. It took strong voices, and coordinated action from the community.
Finally, what GBNRTC has done here is prioritize those living and working in Region Central. Rather than giving unnecessary attention to travel times of those cutting through, there is finally consideration for the lived experience and travel times of people adjacent to the expressway. How often did they have to drive, rather than walk, in order to get from one side of the expressway to the other? How many minutes were added to their trips when they had to go entirely around the expressway that separated their neighborhoods? How much noise and toxic pollution was pushed upon them? It's so refreshing to see GBNRTC take a people-first approach, which is in direct opposition to the NYS DOT's approach of moving cars quickly, no matter the cost.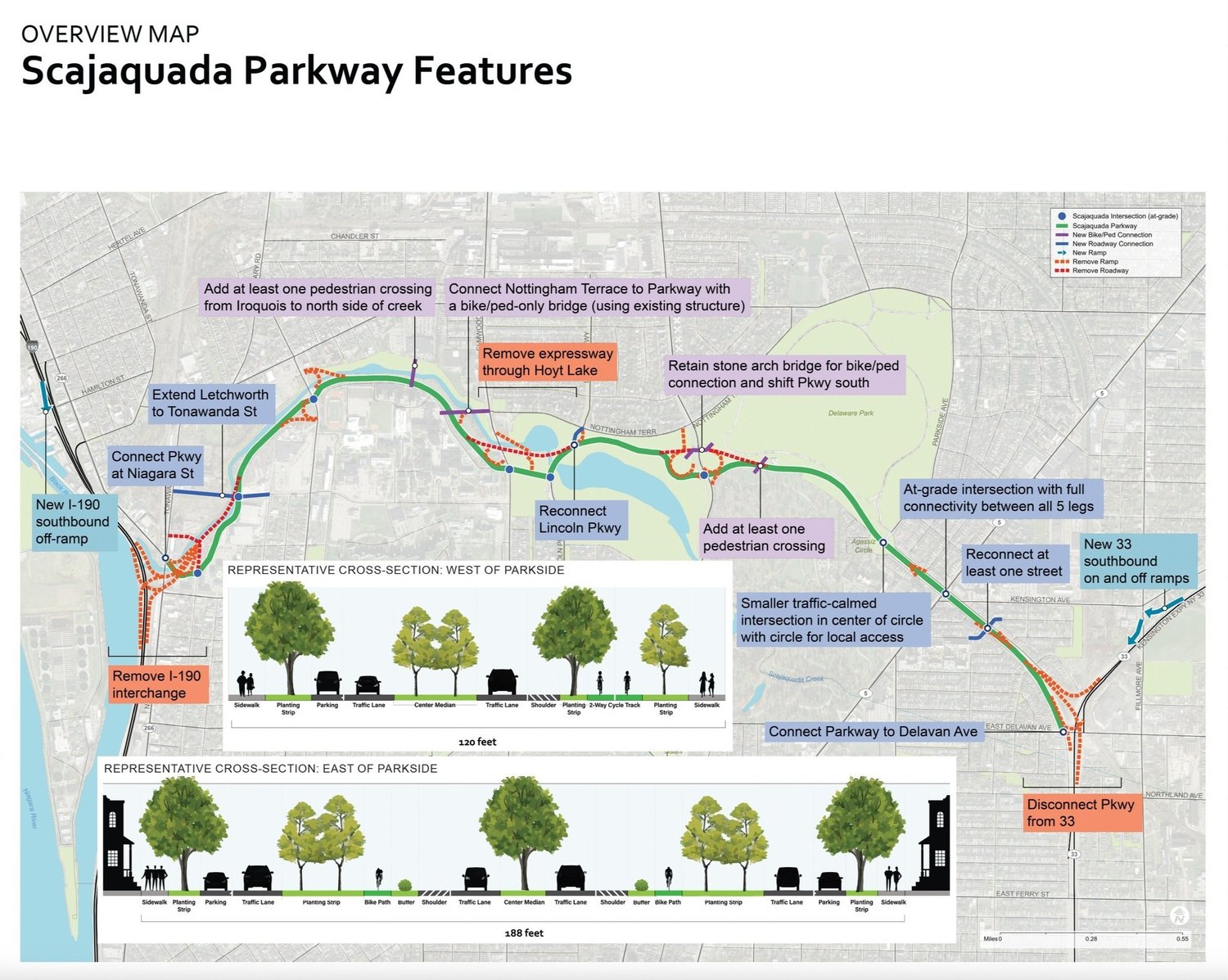 Advocacy
First thing's first:
– View it.
– Understand everything about it.
– Fall in love with it.
Here's a great write-up from Mark Sommer at the Buffalo News.
Here's the background, maps, and entire PDF of Tuesday night's presentation from GBNRTC.
Next, speak up! Groups like Olmsted Parks, GObike, Buffalo Niagara Waterkeeper, and others all work daily to improve health, safety, accessibility and quality of life in these affected areas. We're lobbying for this where we can, but the voice of constituents is still the strongest of all when it comes to affecting public policy.  If you're in favor of what you see in these designs, and especially if you live in Region Central, you've got to contact your state representation.
In the NY Assembly:
Assm Crystal Peoples-Stokes district includes both sides of the expressway from the eastern edge of Delaware Park to East Delavan Ave.
Assm Jon Rivera's district includes the south side expressway from Delaware Avenue west to the Niagara River.
Assm Bill Conrad's district includes all of Delaware Park, and the north side expressway west to the Niagara River.
In the NY Senate:
Senator Sean Ryan's district includes the majority of the expressway from Main Street west to the Niagara River.
Senator Tim Kennedy's  district shares a portion of the expressway on Humboldt near Medaille College and then all the expressway from Main Street to E Delavan Avenue.
New York Governor Kathy Hochul obviously has jurisdiction over the entire state and the ultimate power to see this through.
If you think this plan is so common sense that it will happen on its own, you're wrong. In this town, the voices against positive change are often louder than those for it. You have to be part of this.
By contacting them frequently, via email, phone, letters, and at events, we can help them understand that backing this proposed design and seeing it through to fruition would be a major win for them politically, and an even bigger win for our city and region.
There will be so much more coverage from our Scajaquada Corridor Coalition team. Please remain active in this process!