With additional funds coming from the federal and state government, Buffalo can afford to move forward with its plans not just to create a more sustainable, safer, and more connected city, but also one that grants greater access and protection to its tax-paying citizens that cannot drive, or choose not to drive. As cities around the country expand space for people walking, cycling, rolling, and using transit, Buffalo is stepping forward to improve quality of life in neighborhoods in all directions.
Exciting times! However, these plans fall slightly short in their continued emphasis on the movement of cars in a city where nearly 1 in 4 households doesn't own a vehicle, and in a neglected East Side where that number is closer to 1 in 3 households without a car.
This isn't just about providing recreational opportunities to people thinking about cycling. By becoming a less car-dependent city, we can become more economically resilient. When jobs, services, entertainment are accessible by more than just car, they're accessible to more people – making it easier to hire, reach customers, and those in need of care.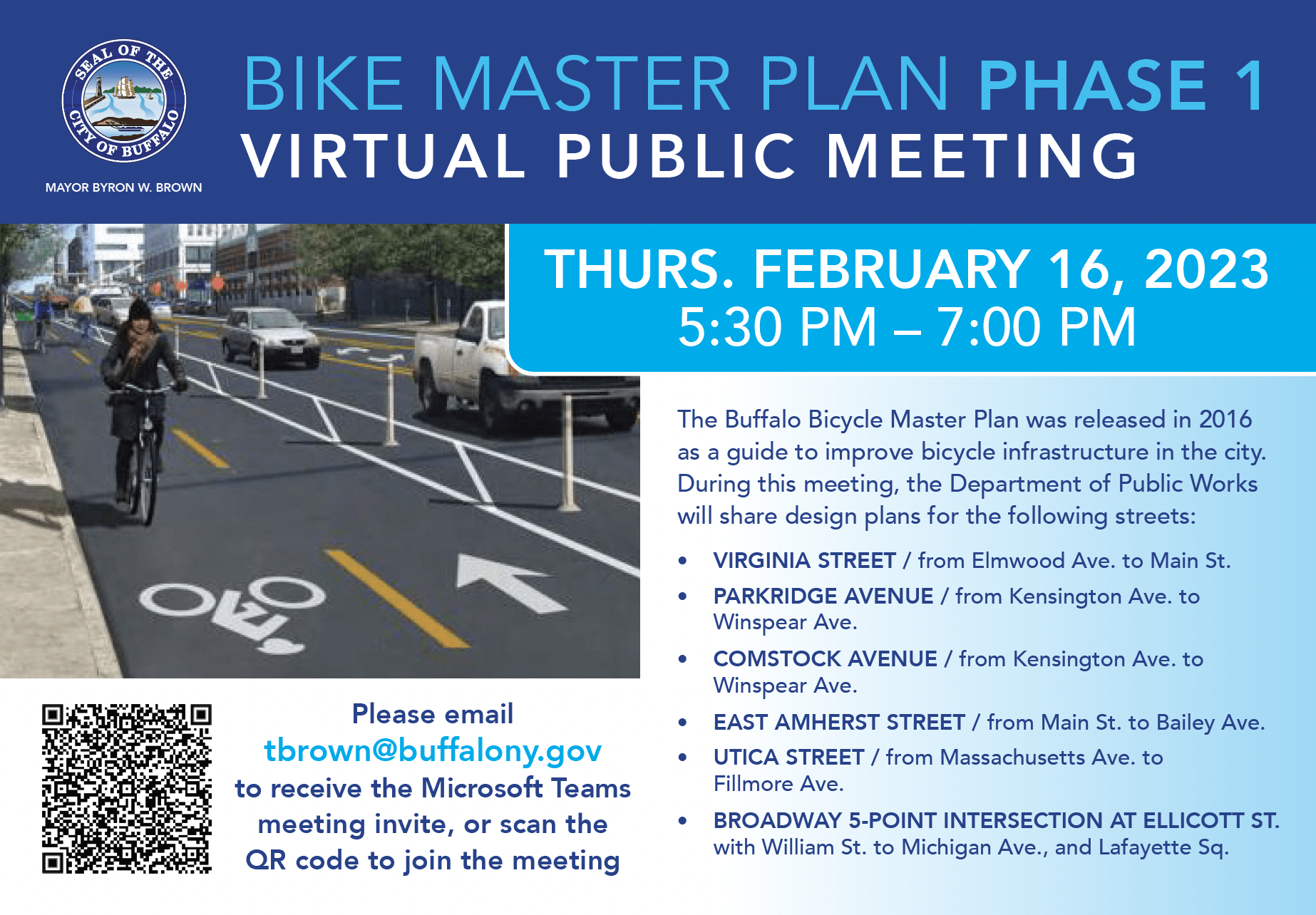 The Bicycle Pedestrian Advisory Board, which GObike chairs, was able to review these plans in the spring. We sent a letter in June to then-Commissioner of Public Works Mike Finn about the plan's shortcomings. You can read the board's comments below:
Bicycle & Pedestrian Advisory Board
June 2, 2020
Mike Finn
Commissioner
City of Buffalo Department of Public Works
65 Niagara Square
Buffalo, NY 14202
Dear Commissioner Finn,
At the May meeting of the Bicycle & Pedestrian Advisory Board, we were presented designs  for  four  projects  including  the  Delaware  Ave  restriping  plans,  Downtown  Entertainment  District, BNMC: Virginia & Burton Streets, and the Bicycle Master Plan Phase 1. While there  are welcome safety improvements in all  the designs,  they  fall short in meeting  the safety,  health, environmental and equity goals to meet the Mayor's vision of putting Buffalo at the  forefront of the "mobility revolution" shared at this year's state of the city address.
From 2014-2019 Buffalo has witnessed 2,245 crashes resulting in injury or death involving  pedestrians and bicyclists on our streets. With physical safety concerns regarded as one of  the  most  significant  barriers  to  cycling,  here  too  the  burden  of  injury  and  risk  is  wildly  disproportionate. Latino cyclists face fatality rates 23% higher than whites, and for African  Americans, they are 30% higher.
In his introduction  to  the bicycle master plan, Mayor Brown stated, "Despite  the  fact  that  neighborhoods  of  color  have,  on  average,  less  access  to  automobiles  than  other  neighborhoods  – many  of  these  same  neighborhoods  have  lacked  the  resources  and  infrastructure  to make riding a bicycle a safe and attractive option. Research consistently  shows that 60% of people would ride more often if these facilities were available to them."
The  recommendations  provided  share  this  perspective.  The  movement  of  vehicle  traffic  should  not  take  precedence  over  people's  health  and  lives.  Please  take  this  into  consideration as the design process proceeds.
Sincerely,
Justin Booth
Chair
Bicycle & Pedestrian Advisory Board
– – – – – –
Bicycle Master Plan Phase 1 PIN 5762.65
Presented by the Department of Public Works on May 4, 2020
The catalyst projects in the Bicycle master Plan were selected to provide: • Connections to existing bike facilities
Opportunity to induce new riders immediately
Linkage to key destinations
Equal distribution between east and west side neighborhoods
Clear support from stakeholders and community members
While some of the details of the projects provide some of the attributes originally identified  in the plan, it leaves much to be desired while eliminating many of the more aspirational  projects identified in the "priority network'.  With $1.8 million awarded through a grant for  these projects, it is discouraging to see the resources spread across so few projects with  vehicle movement prioritized at the expense of our roadways most vulnerable users.
Parkridge Avenue
The design proposed is a significant safety improvement in this neighborhood for bicyclists  to access UB south campus in addition to improving ADA accessibility and high visibility  crosswalks for pedestrians. Recommendations include:
Medians at Minnesota should be extended with pavement markings to slow left turn vehicles and provide improved refuge for pedestrians.
The signal at Parkridge and Winspear needs high-resolution detection and signal timing.
Curb ramps should be replaced at Kensington intersection and curb radii reduced.
Comstock Avenue
The design proposed is a significant safety improvement in this neighborhood for bicyclists  in addition to improving ADA accessibility and high visibility crosswalks for pedestrians  Recommendations include:
Add green skip marking thru E. Amherst St for SB Comstock bike lane. • Use 2 ADA ramps in NE corner of Comstock/Hewitt to provide better pedestrian accessibility.
Add shark teeth yield symbols for SB bike lane at south crosswalk of Dartmouth • Medians at Minnesota should be extended with pavement markings to slow left turn vehicles and provide improved refuge for pedestrians.
Amherst Street
Recommendations include:
Signals at Main and E. Amherst as well as Bailey and E. Amherst need high resolution detection and signal timing
Omit the exclusive WB left Turn Only lane at Main Street
Add a bike box for bicyclists at Main Street
From Main Street to Manhattan
o Modify vehicle travel lane width from 11′ to 10′ and increase bicycle lane  width from 5′ to 6 '
From Manhattan to Parkrdige
o Modify travel lanes from 12′ to 10′ and increase buffered bike lanes from 5′  to 7 '
Switch eastbound parking lane with bike lane to provide parking protected bike  lane between Main Street and Manhattan
Berkshire Avenue currently has a one-way 8' wide bicycle lane; it should be a two way cycle track and the intersections at E. Amherst and Parkridge should be  updated to address this.
At Bailey Avenue
o In the east bound lane, eliminate the vehicle left turn lane and add a bicycle  box for cyclists to turn left on Bailey and continue east bound
o Intersection treatments and a dedicated bicycle signal should also support  bicycle traffic heading eastbound
From Bailey to Suffolk Street
o Eliminate the 8' buffer and provide a dedicated 6' bicycle lane with a 2' buffer  in the east bound direction instead of the shared lane marking
Utica Street
85th percentile speeds are greater than 30 MPH (GBNRTC MS2). Reduce travel lanes  to 10′ and add additional traffic calming strategies throughout the entire corridor  where there are only shared lane markings present
Signal at Utica/Richmond Utica/Elmwood Utica/Delaware Utica/Linwood  Utica/Main Utica/Michigan Utica/Purdy Utica/Jefferson Utica/Wohlers  Utica/Fillmore need high resolution detection and signal timing
9′ parking lane and 11′ travel lanes are concerning for "dooring" incidents • Define buffered bike lane, WB at Elmwood to avoid 20′ travel lane, STA 46+70 to  STA 48+50
Stop Lines should parallel crosswalks to incur left turning speed reductions from  NB/SB streets
From Linwood Ave to Michigan Ave.
o Maintain bicycle lane width at 6' by reducing parking to 7'
Remove 13′ outside lanes between NB and SB Humboldt Pkwy
o Utilize extra space for dedicated lanes/ wider sidewalks
Convert Utica/Humboldt intersections to mini-roundabouts
Virginia Street
Either eliminate parking along Virginia or turn it into a one-way street for vehicles  to maintain a dedicated bicycle facility through either buffered bicycle lanes or a  cycle track as was identified in the Bicycle Master Plan. Shared lane markings along  this corridor are unacceptable.
Signal at Elmwood/Virginia, Delaware/Virginia, Franklin/Virginia, Main/Virginia  high resolution detection and signal timing
Intersection of Virginia and S. Elmwood
o S. Elmwood north of the intersection already has bicycle lanes present and  heading south there are plans for a cycle track. It appears that from the plans  provided that the sidewalk along the west side of the street is being extended  without consideration impacts of the planned future bicycle facility.
o With only 4880 AADT along Virginia Street heading west of this intersection,  the left hand turning movement from S. Elmwood is not necessary and  decreases the safety at this intersection for pedestrians and cyclists.
o The exiting bicycle lanes along S. Elmwood should be restriped and left hand  turning movements for cyclists onto Virginia Street to head east should be a  priority to safely facilitate through this intersection with bike boxes and a  two-stage turning queue box.
Intersection of Virginia and Delaware
o While two stage turns may increase bicyclist comfort in many locations, this  configuration typically results in increased delay for bicyclists. Bicyclists now  need to receive two separate green signal indications (one for the through  street, followed by one for the cross street) to turn.
o The dedicated right hand turn lane on heading southbound on Delaware Ave  needs to be eliminated and "No turn on red" signage needs to be in place on  all legs of the intersection to provide safety for bicyclists but especially for  pedestrians.
▪ A bus bulb for improved transit access and reducing pedestrian  crossing distances should replace the right hand turn lane.
▪ This treatment should be added for each leg of the intersection with a  bus stop and curb extensions for the legs that currently have hash  marks to eliminate vehicles parking close to the crosswalks to
maintain safe sight lines.
Design is a more effective mechanism then signage and
enforcement, especially when right hand turning movements
are already being eliminated.
o Bike boxes need to be installed in addition to the two-stage turning queue  box.
o The safest design at this intersection would be to develop a "Dedicated  intersection" with the goal to increase visibility and focus on reducing turn  speeds, which the current design does not accomplish.
Intersection of Virginia and Franklin
o This intersection should be redesign to improve pedestrian safety and access as well bicyclists.
o To reduce pedestrian crossing distances and increase visibility, creating a  safer overall bicyclist and pedestrian environment, curb extensions should  be added along all legs of the intersection establishing a gateway treatment.
o Bike boxes need to be installed in addition to the two-stage turning queue  box.
Install curb extensions at the Virginia/ N. Pearl intersection.
Continue the bike lane through the side street intersections. The typical treatment is  peg-a-track (dotted line), plus chevrons. NACTO shows the options here• Intersection of Virginia and Main Street
o With an existing project along Virginia east of Main Street in addition to this  plan, their needs to be consideration of improved bicycle and pedestrian  movements through this intersection as well. While it is recognized that a  plan is being developed for Main Street, implementation is several years off.  It is inappropriate to disregard the need to develop safe crossings for  pedestrian and bicyclists at this intersection.
Lafayette Square to Clinton Street
Bicycle lanes should be against the curbs and buffered if not protected with the can  standing lane/parking lane on the opposite side to eliminate vehicles parking in the  lanes and creating conflicts.
Utilize existing curb extension at southeast corner to provide a protectedintersection maintaining the bicycle facility through the curb extension and include  a high-visibility crosswalk across Clinton Street at this location.
Broadway to Lafayette Square
Shared lane markings are an inappropriate treatment for this location especially  with traffic volumes only in the 5100-5700 AADT. Removal of a travel lane to  provide room for a one-way buffered or protected bicycle lane is the only safe  option along this corridor especially because it is on an incline.
Ellicott Street between Clinton and Broadway/ William/ Lafayette Square • At Clinton Street bike boxes need to be installed in addition to the two-stage turning  queue box.
Ellicott Street needs to be a two-way facility for bicyclists with either buffered lanes  on either side of the street or a two-way cycle track.
Intersection of Ellicott/ Broadway/ William/ Lafayette Square
With the central business district exhibiting the most bicycle crashes in the entire  city over the last five years, the lack of any improvements through this intersection  is discouraging and clearly prioritizes vehicle turning movements over the safety of  pedestrians and bicyclists.
The crosswalk along the east leg of the intersection is too long and a pedestrian  refuge island is necessary.
The skip markings for the bicycle lane at Blossom Alley stand in stark contrast to the  lack of any markings through the intersection.