Cranksgiving 2022: Giving back is much more fun on two wheels.
Registration link closed at 12P Friday. Please arrive early Saturday (11A) to get your waiver signed in time.
The 10th Annual Cranksgiving was a huge success! Before we even knew how beautiful the November weather would be that day, 135 riders were registered, a new record for GObike's event, done in loose collaboration with bicycle and safe transportation advocates like us around the country. Participants gathered 980 lbs of food! We think you all can out do that this year and help us cross the 1,000 lb mark!
Join us this year for Cranksgiving #11 on Saturday November 5 (Rain Date Nov 12), we'll gather at 11AM at Hostel Buffalo Niagara 667 Main Street Buffalo NY 14203 and the ride will kick off with everyone at 12P. Post party will run 2P – 4P at the starting location.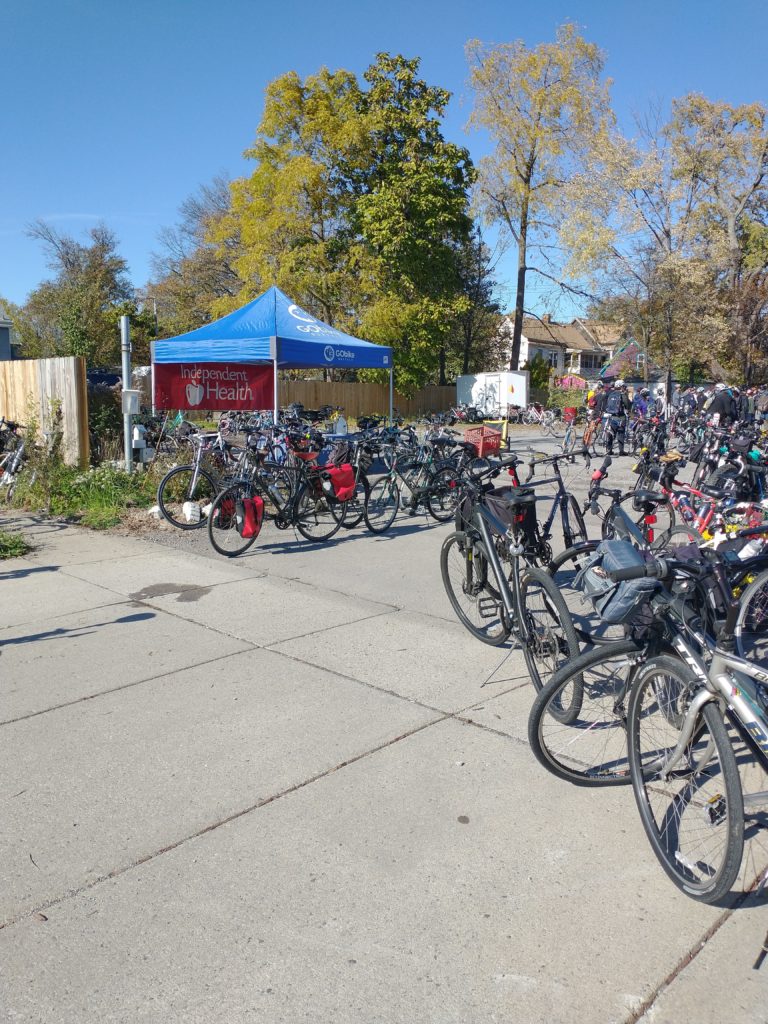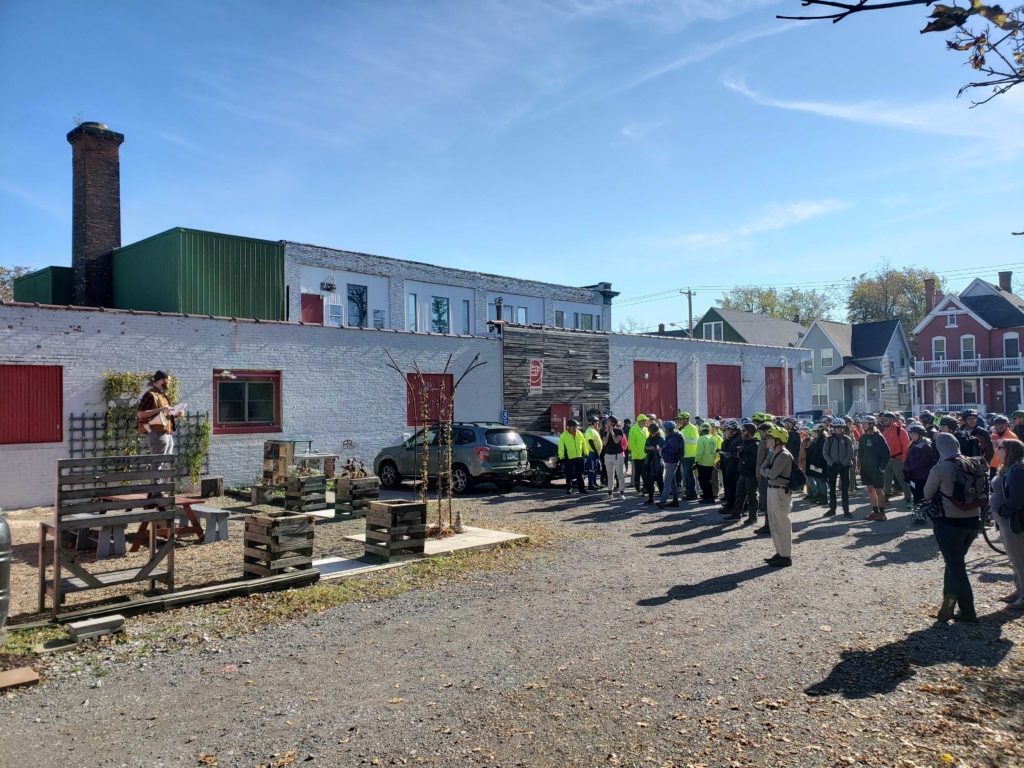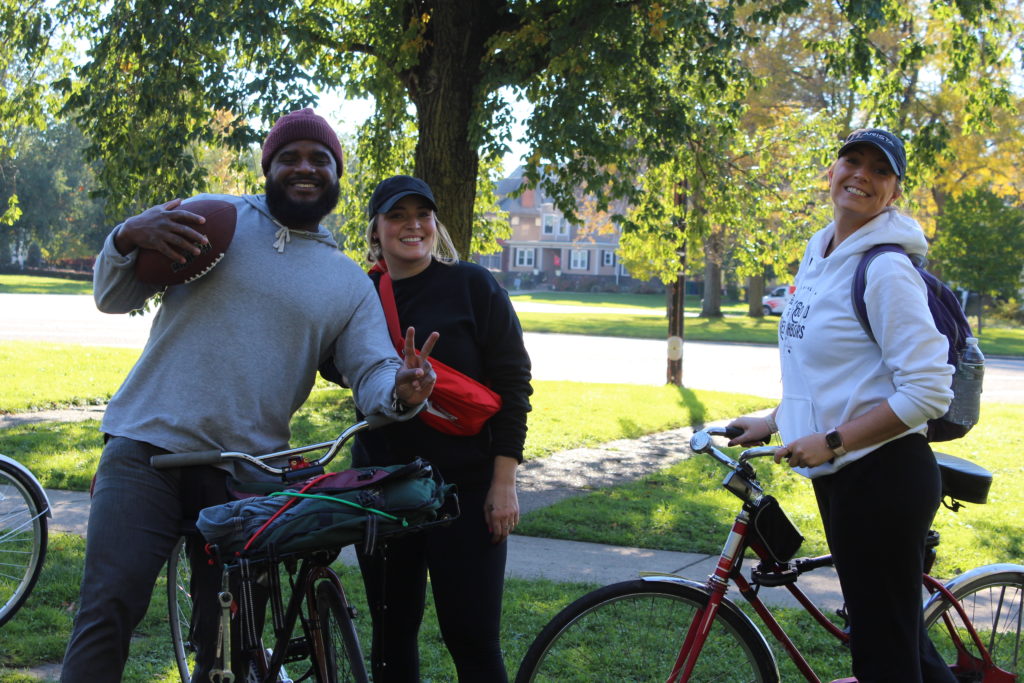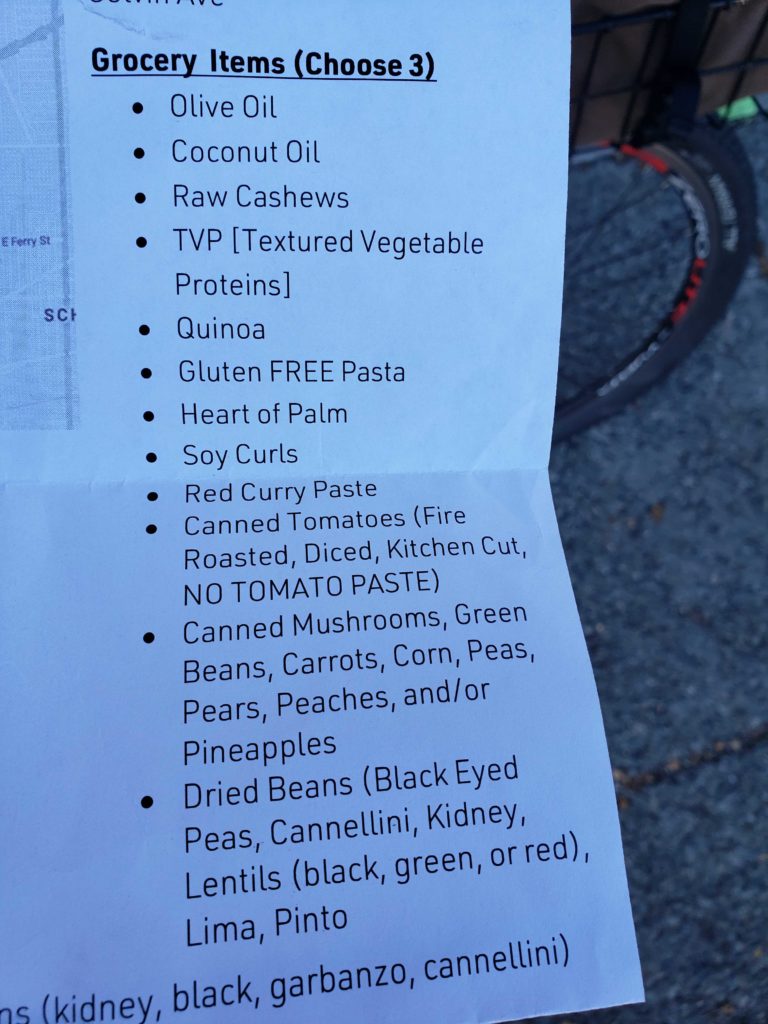 This year, we're once again foodraising for Buffalo Food Not Bombs whose volunteers take the food and cooks it deliciously and serves it as a hot meal to those who are hungriest on our city streets.
After gathering your team and getting some quick instructions, it's time to set out and get shopping! All the food guidelines come from Food Not Bombs. Choose four stores from a long list of grocers in the city, whatever makes the most strategic sense for your team, OR whatever gives you the most beautiful scenic views.
–
Cranksgiving is a food drive on two wheels. Part bike ride, part food drive, part scavenger hunt. Bring a bike (any bike will do), a bag, a lock, a helmet and about $10-15 to buy food.
Riders will be given a manifest with a list of grocery stores around the city to visit and food items to purchase. Riders will bring their completed purchases back to our starting location.
Families and teams (limit 4 people per team) along with individual riders are encouraged to enter.
Being fast is not a requirement! Create your own route that's most strategic or just most beautifully scenic.
Trophies/Prizes will be awarded and refreshments will be had at an outdoor after party at our Hostel Buffalo Niagara at 2pm.
The after party is free for riders, but we are asking that non-riders bring 4 vegan non perishable food items to donate or $5.
We ask that participants please pre-register for the ride using the link above. Online registration for the event will close at 12 pm on Friday, November 4; in-person registration will be accepted at the event.
In person registration is on location and starts at 11am and the ride starts promptly at 12pm.
PRIZES!
Awards and shout-outs for the following categories:
– First team to finish
– First individual to finish
– Most food collected (measured by weight)
– Least spent per pound (weight/$)
– Most spent per pound (weight/$)
– Best team name
– Best team outfits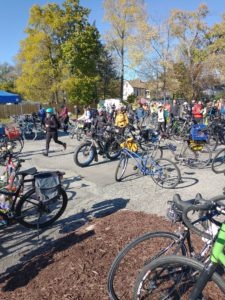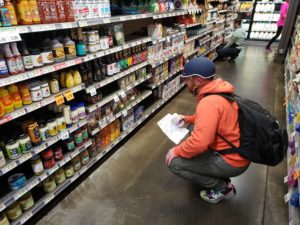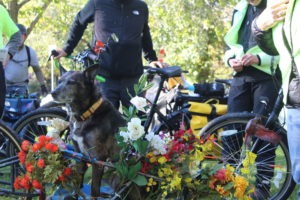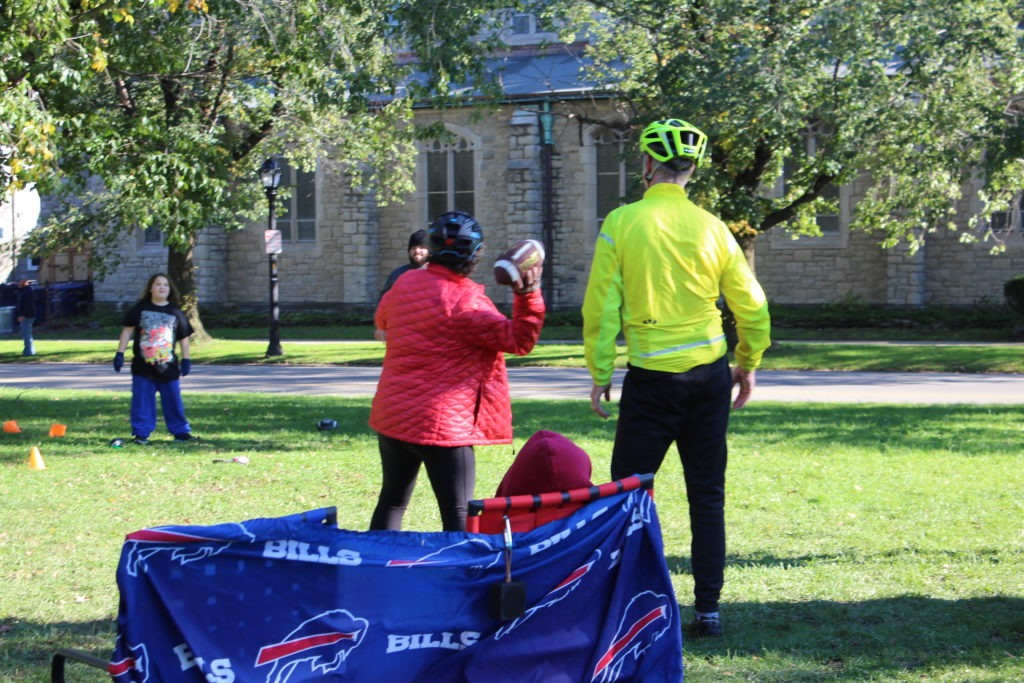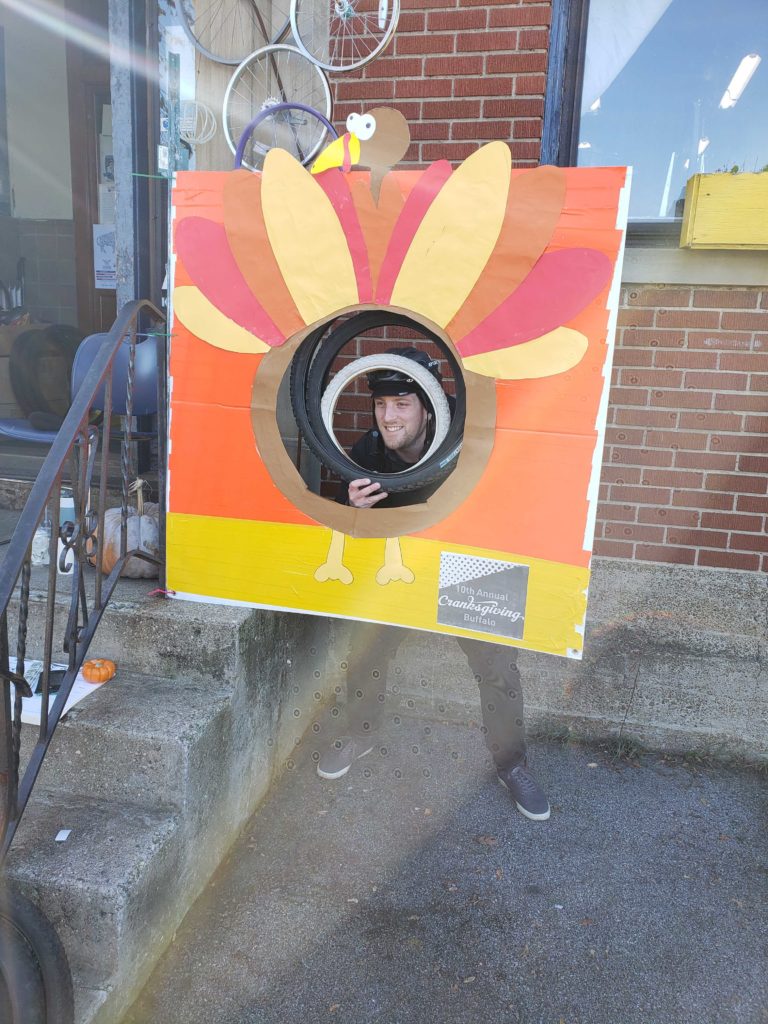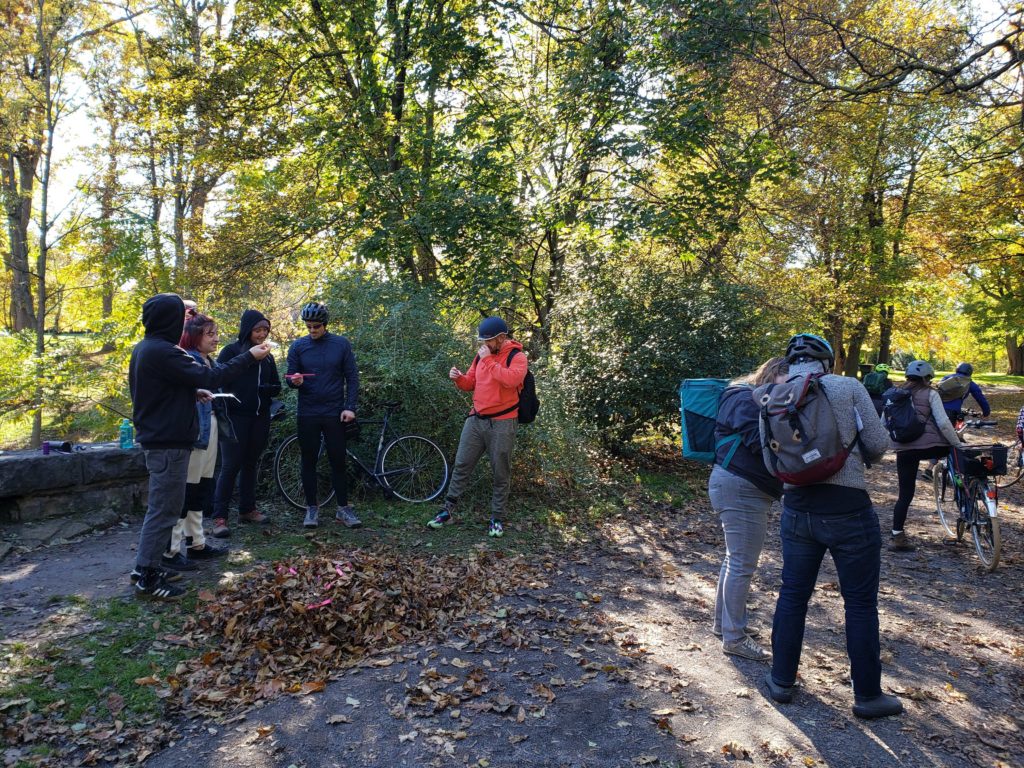 By 3PM, nearly everyone was back at the Foundry for some refreshments and hanging out. Prizes were awarded for speed, largest haul, and bargain hunting.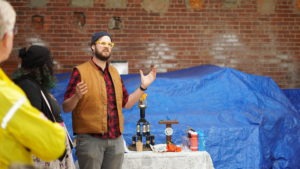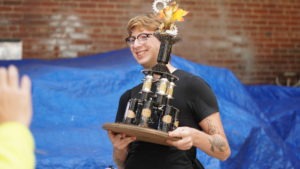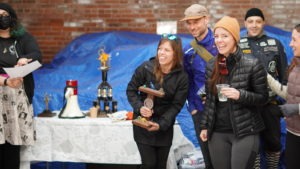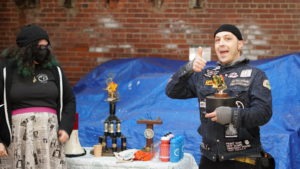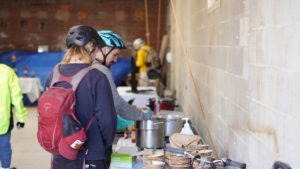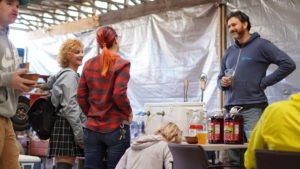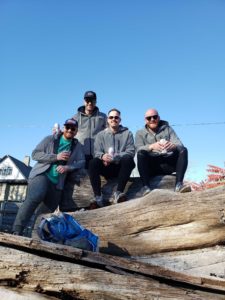 Thank you SO MUCH to everyone who participated and had a great time!
The day was almost perfect. Unfortunately, one of our participants showed complete disregard for the residents of the streets surrounding The Foundry. They took it upon themselves to park their pickup truck in a private lot adjacent to someone's home and even went so far as to disassemble their fence in order to exit later that day. Riding is great. Gathering food donations is great. But neither activity excuses that kind of behavior and we apologize to those who were affected.
Do not ride on the sidewalk (unless you're under age 14). It's actually less safe to ride the sidewalk than the road. Cars can see you approaching better on the road than as you fly off the sidewalk at intersections. Additionally, in the city of Buffalo, it's illegal for adults to ride the sidewalk for that very reason.
Ride on the right side. Again, for safety. You may think seeing a car head-on by riding on the left is safer, but you're actually going to cause a crash faster. Riding on the right allows cars to follow behind you and then pass easily when it's clear. Riding on the left may cause them to slam the brakes or choose between hitting you or a car coming in the other direction. When riding on the left, they also can't see you at intersections, or when pulling out of driveways, or when pulling out of street parking.
Obey the rules of the road. You have a right to the road just as cars do, but you have to follow the same rules at intersections, and yield to pedestrians, too.
Respect the neighborhoods you're riding through. Of course all streets in Buffalo should be accessible and safe to bike on, and we should all get to know our entire city and our neighbors. But the first purpose our streets serve is to accommodate those who live on them. So be thoughtful in where you may park your car or tie your bike, and where you're making noise. Say hello to folks you see and let's solidify biking's reputation as our city's great connector.
Have fun. The best rides are those where we go out for an adventure, and doing some good, charitable work makes it all the sweeter.