Giving back is much more fun on two wheels.
The 10th Annual Cranksgiving was a huge success! Before we even knew how beautiful the November weather would be that day, 135 riders were registered, a new record for GObike's event, done in loose collaboration with bicycle and safe transportation advocates like us around the country.
All of our riders gathered at The Foundry on Northampton Street and were provided envelopes they couldn't open until 1PM.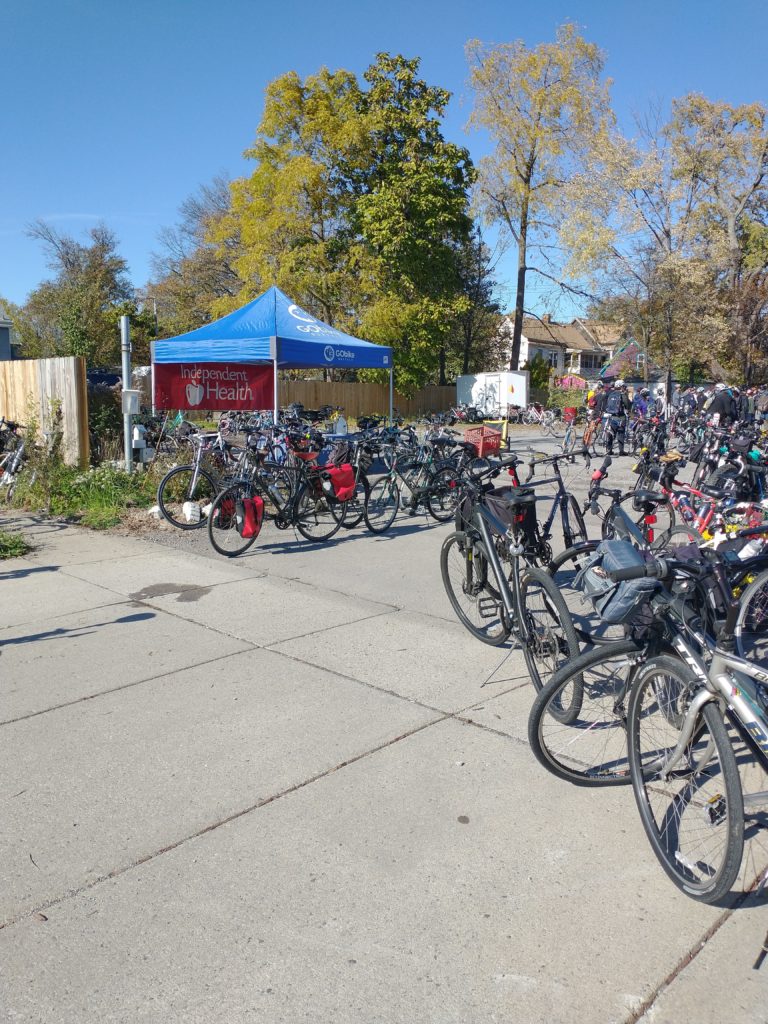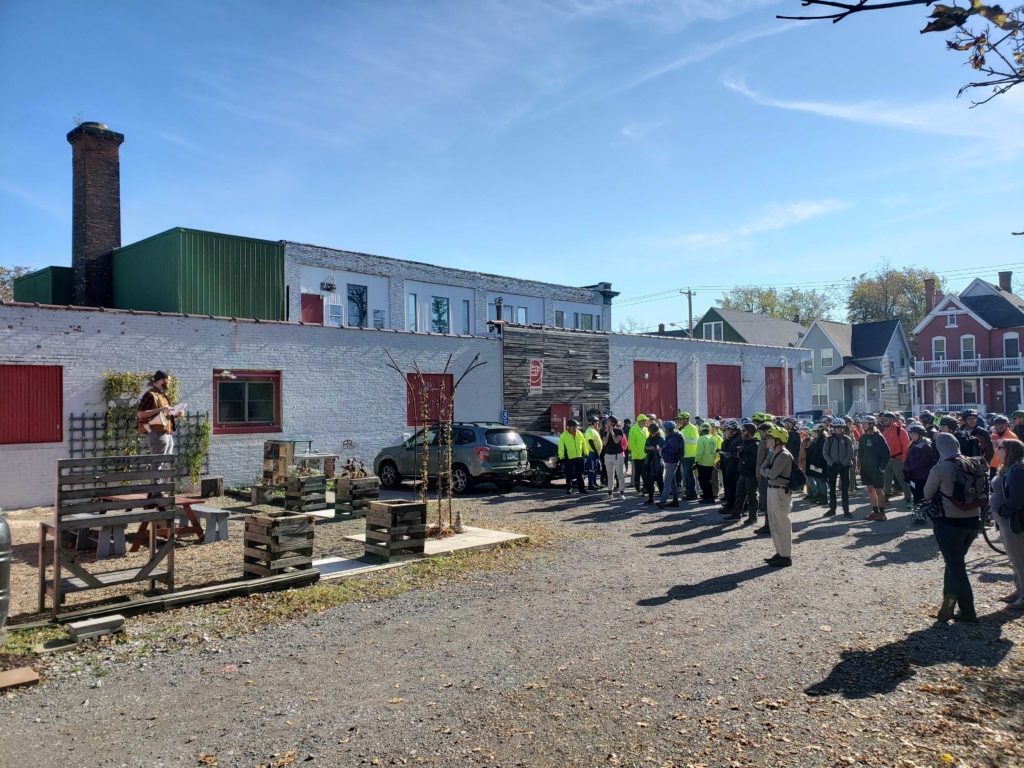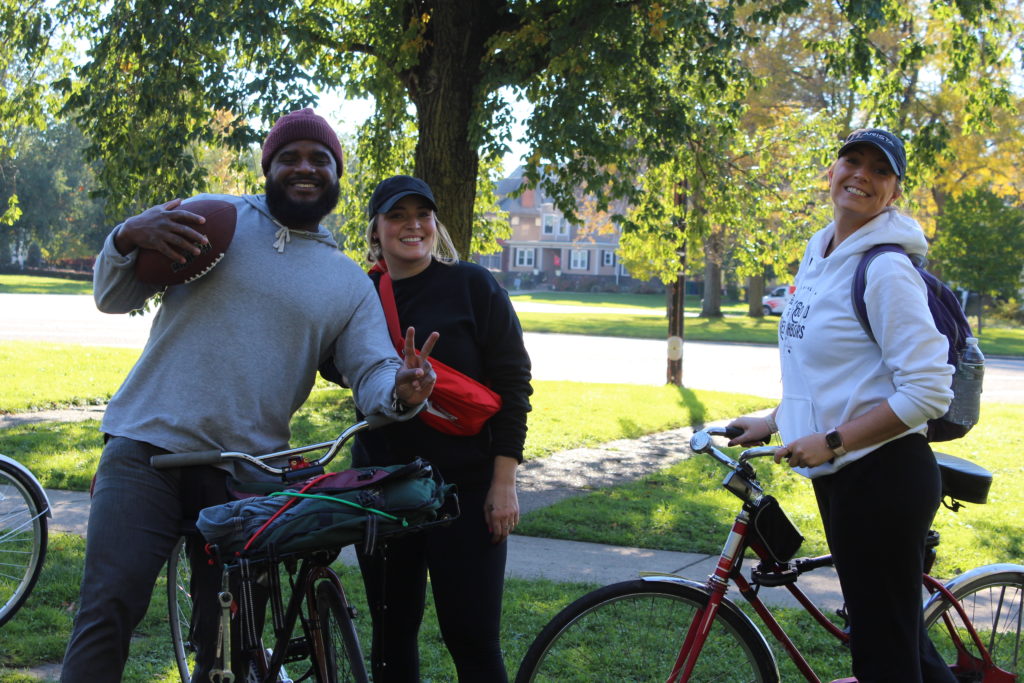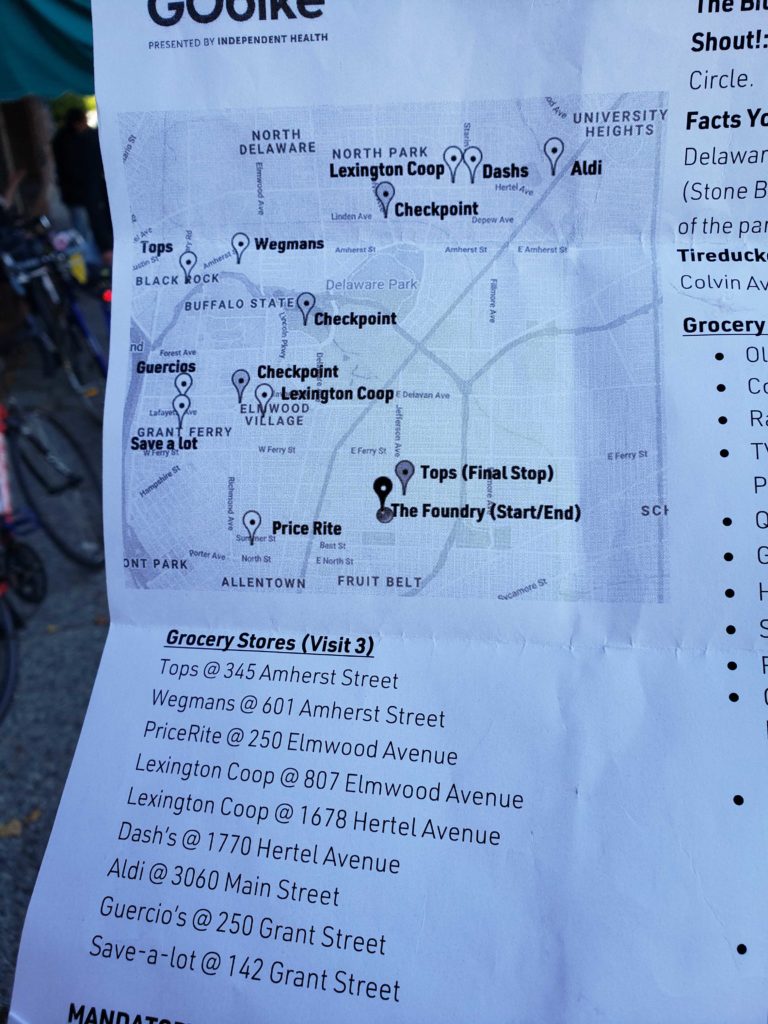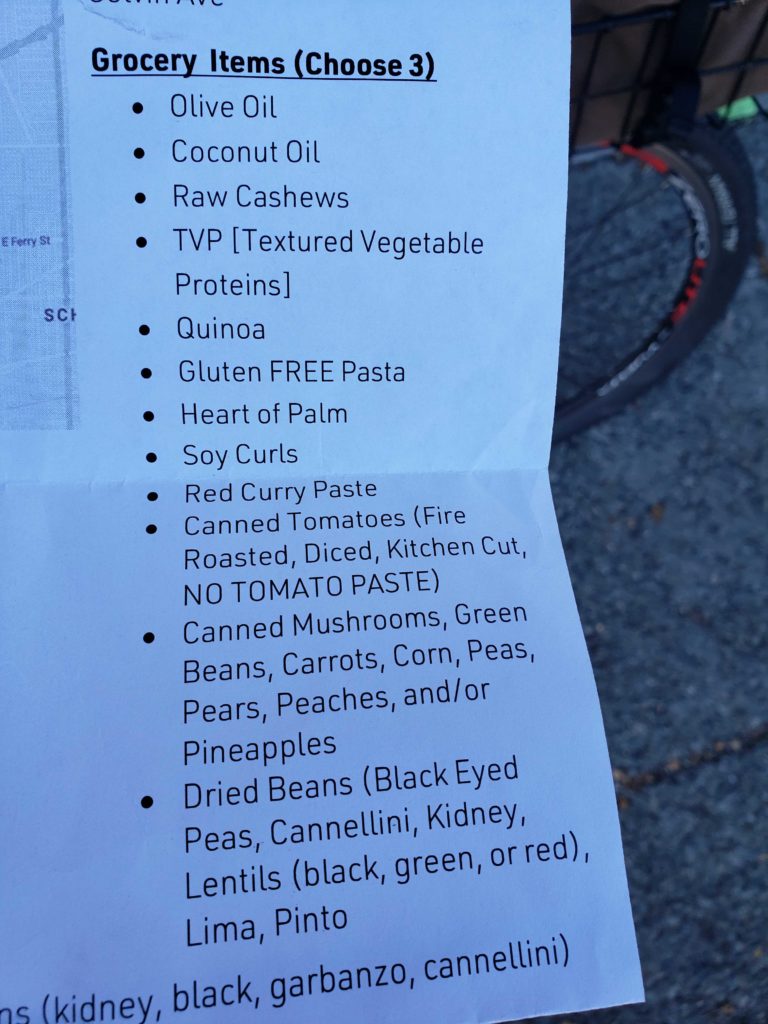 After getting some quick instructions, it was time to set out and get shopping! All the food guidelines came from our beneficiary, Food Not Bombs, who cooks health vegan meals for folks in need, and then heads out to various city neighborhoods to serve to anyone who is hungry.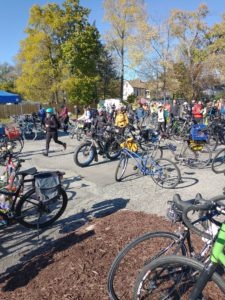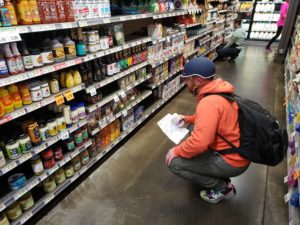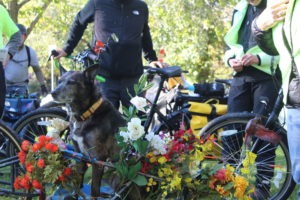 What makes Cranksgiving fun is there are more grocery stores available than you need to hit, and there are checkpoints along the way to make sure you have to do some scrambling around the city. Those who know their routes can get a great advantage over those who just want to ride fast. Checkpoints usually have something silly to do before getting a sticker and taking off.
This year:
– Toss a football to a kid at Bidwell
– Tube some tires and make a face frame at our shop at Linden and Colvin
– Dig through a pile of leaves in Rumsey Woods to pull out a True or False fact about safe biking. Get it wrong? You'll have to spontaneously dance or tell a joke!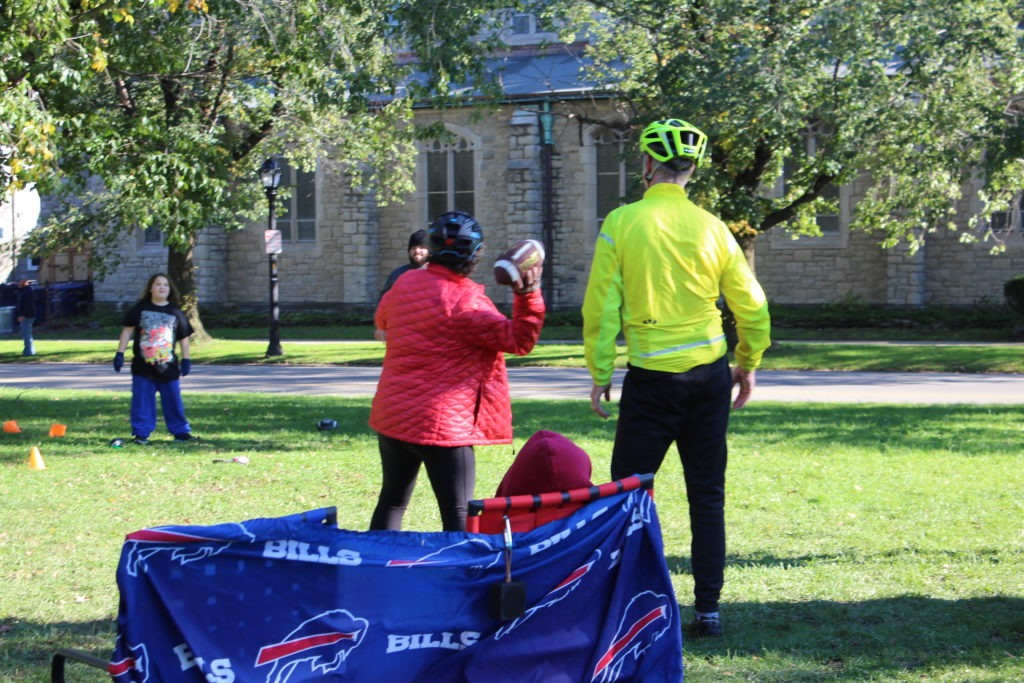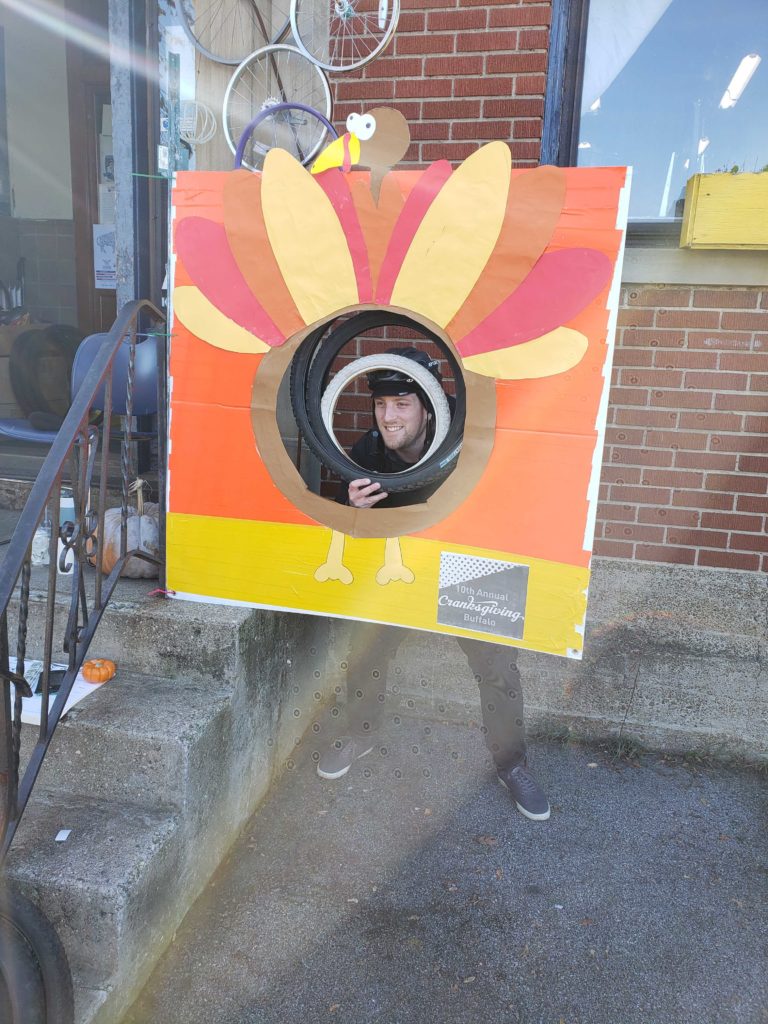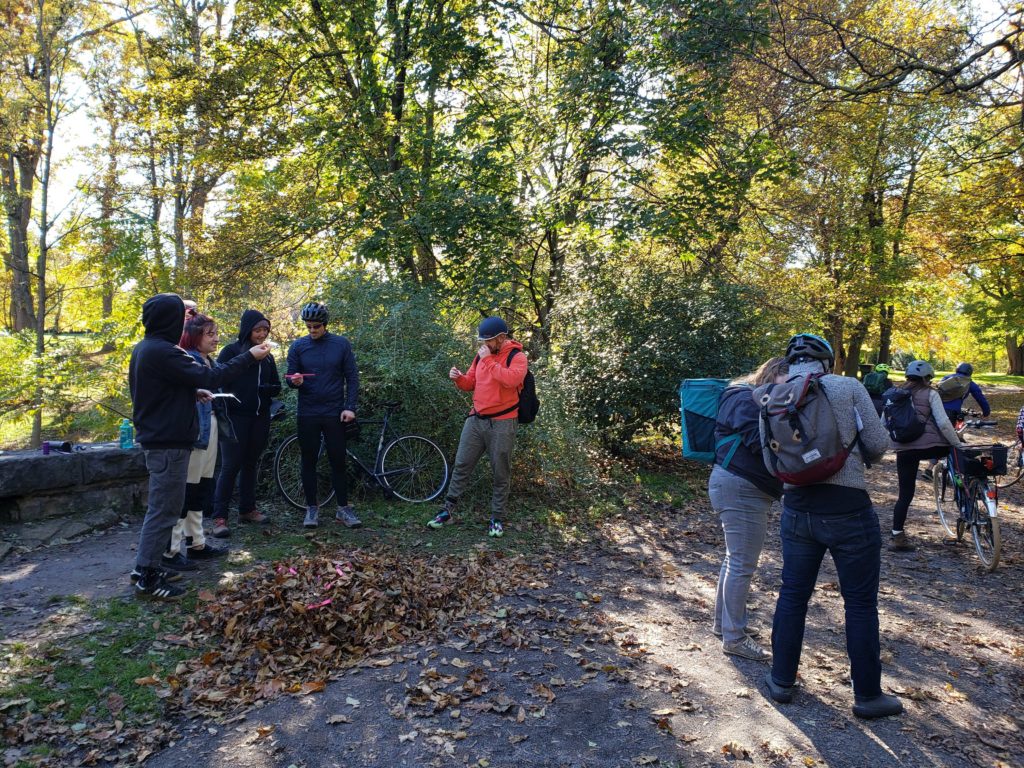 By 3PM, nearly everyone was back at the Foundry for some refreshments and hanging out. Prizes were awarded for speed, largest haul, and bargain hunting.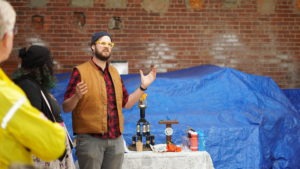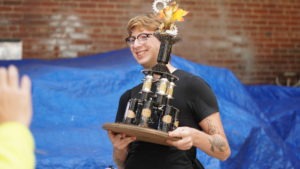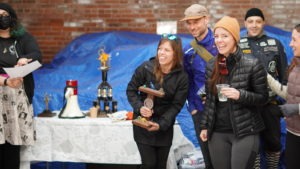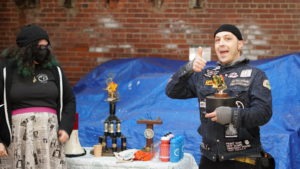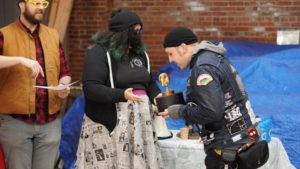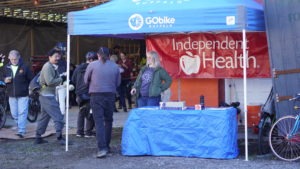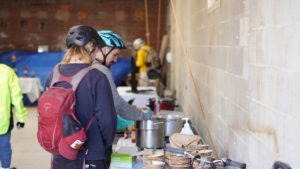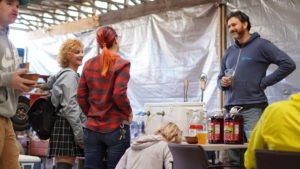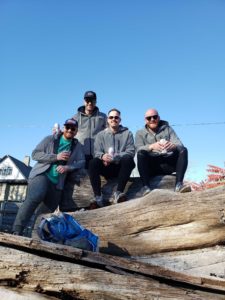 Thank you SO MUCH to everyone who participated and had a great time!
The day was almost perfect. Unfortunately, one of our participants showed complete disregard for the residents of the streets surrounding The Foundry. They took it upon themselves to park their pickup truck in a private lot adjacent to someone's home and even went so far as to disassemble their fence in order to exit later that day. Riding is great. Gathering food donations is great. But neither activity excuses that kind of behavior and we apologize to those who were affected.
So you want to organize your own Cranksgiving-esque ride?
Excellent! Here's a few steps to keep in mind:
Choose your beneficiary. Contact them in advance and see if there are any particular items they may need. Toiletries, for example, are often in just as high of demand as food.
Add some wildcard features like grabbing photos with landmarks around the city, or riding to certain major and minor parks. Consider asking people to hit 4+ stores, but make 10+ available and 2+ on opposite ends of your map mandatory. Watch the deep strategy start flowing from each team!
Consider a points system. Turn on Strava! Those photos, or miles, or that completion of a roundabout or traffic circle can get teams thinking differently about their routes and ways to grab some points before the time limit is up.
Set a time limit. If you're just rolling with 2-3 teams, then it can be a long day if one team is just cruising all over the city. Think about the average speed of your groups and try to come up with a realistic timeline that doesn't require them to burn rubber, but also keeps them moving.
Do not ride on the sidewalk (unless you're under age 14). It's actually less safe to ride the sidewalk than the road. Cars can see you approaching better on the road than as you fly off the sidewalk at intersections. Additionally, in the city of Buffalo, it's illegal for adults to ride the sidewalk for that very reason.
Ride on the right side. Again, for safety. You may think seeing a car head-on by riding on the left is safer, but you're actually going to cause a crash faster. Riding on the right allows cars to follow behind you and then pass easily when it's clear. Riding on the left may cause them to slam the brakes or choose between hitting you or a car coming in the other direction.
Obey the rules of the road. You have a right to the road just as cars do, but you have to follow the same rules at intersections, and yield to pedestrians, too.
Respect the neighborhoods you're riding through. Of course all streets in Buffalo should be accessible and safe to bike on, and we should all get to know our entire city and our neighbors. But the first purpose our streets serve is to accommodate those who live on them. So be thoughtful in where you may park your car or tie your bike, and where you're making noise. Say hello to folks you see and let's solidify biking's reputation as our city's great connector.
Have fun. The best rides are those where we go out for an adventure, and doing some good, charitable work makes it all the sweeter.
Happy, Safe Riding, Everyone!
Love,
GObike Team