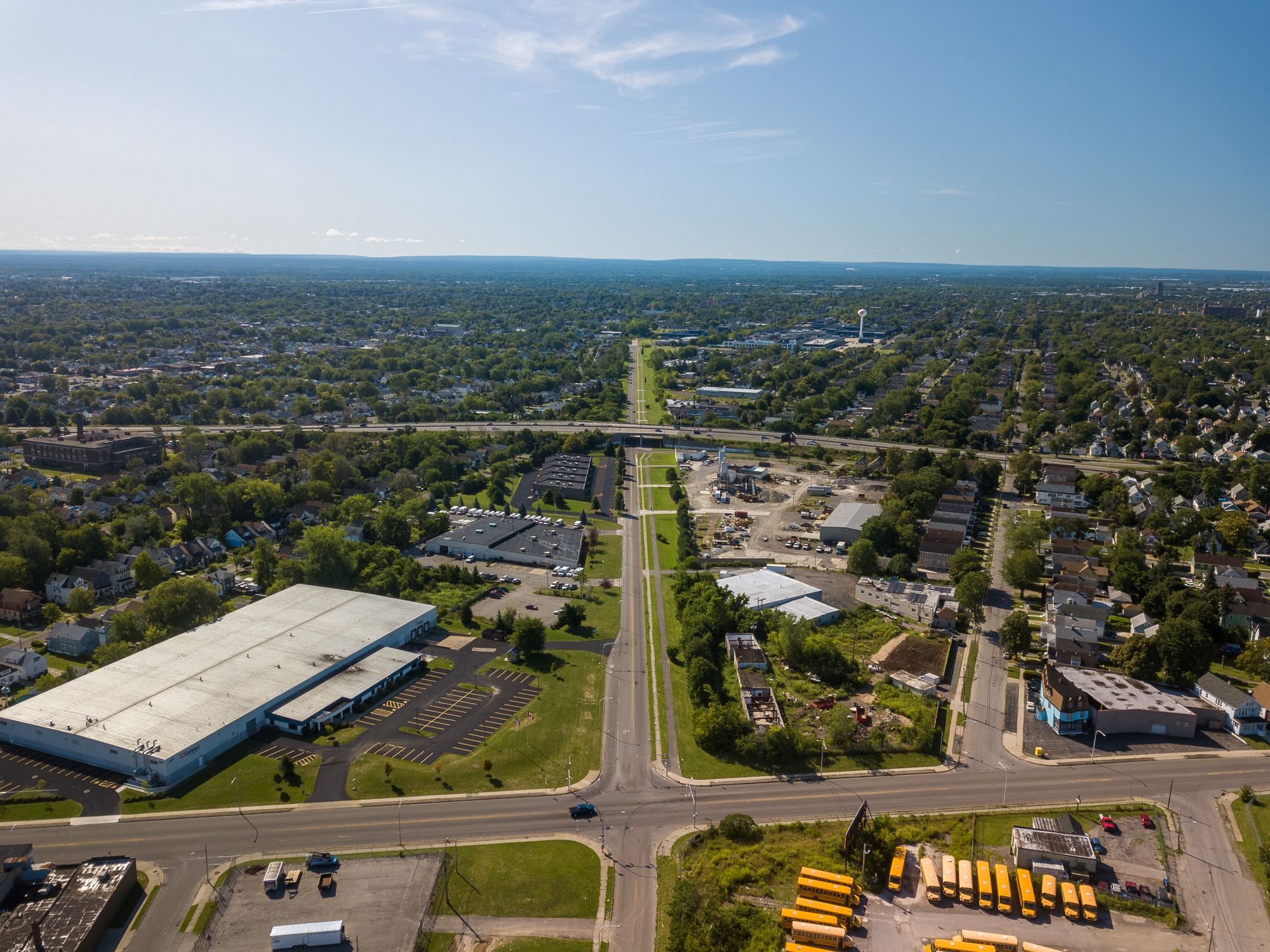 Background
GObike Buffalo, with the generous support of the Ralph C. Wilson, Jr. Foundation, is embarking on a planning project to connect residents of Buffalo's East Side to the existing system of trails, greenways, and on-street bicycle facilities in Buffalo, and invest in safe infrastructure within East Side neighborhoods. This planning project will consist of connecting two proposed trailways.

The first of the two connections is the Northeast Greenway Initiative (NGI), first developed in partnership with the University of Buffalo's School of Architecture and Planning Graduate Studio and the University District Community Development Association (UDCDA). We're excited to say that our team will now move the NGI plan into its next phase.
The second project is the Scajaquada Corridor Trail Extension (SCTE), which consists of an extension to the existing Scajaquada Trail, a footpath that follows the buried Scajaquada Creek running through Hamlin Park and Grider neighborhoods. 
What's the plan?
The proposed NGI trail begins at the LaSalle Metro Station on Main Street and runs east through the University and Masten districts. Our proposal is to extend the William L. Gaiter Parkway walking and cycling track northwest to Main Street and southwest to Delavan Avenue.
Portions of the SCTE already exist between Jefferson and Fillmore Avenues. This planning project seeks to repair and improve the existing trail facilities and extend them west to Main Street at Delavan and east to the southern portion of the NGI (above) at Bailey Avenue.
Creating one of the best paths in the City of Buffalo.
Improvements to both the William L. Gaiter Parkway and the Scajaquada Creek Trail will add to the growing bicycle, trail and greenway infrastructure in Buffalo, as outlined in the City of Buffalo's Bike Master Plan. But, what we're proposing is to connect these two paths, so Buffalo's East Side would host the best pedestrian and bicycle facilities in the entire city, based on its size and ability to bring together the neighborhoods it runs through.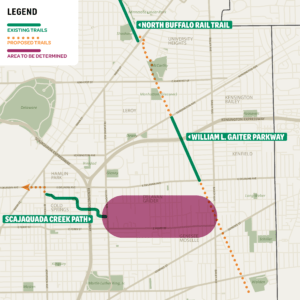 A Community Engaged
We believe those who live in these communities are, by nature, best-positioned to make decisions about their community. GObike is committed to ensuring that the East Side Trail Connections will be a project driven by community members, for community members.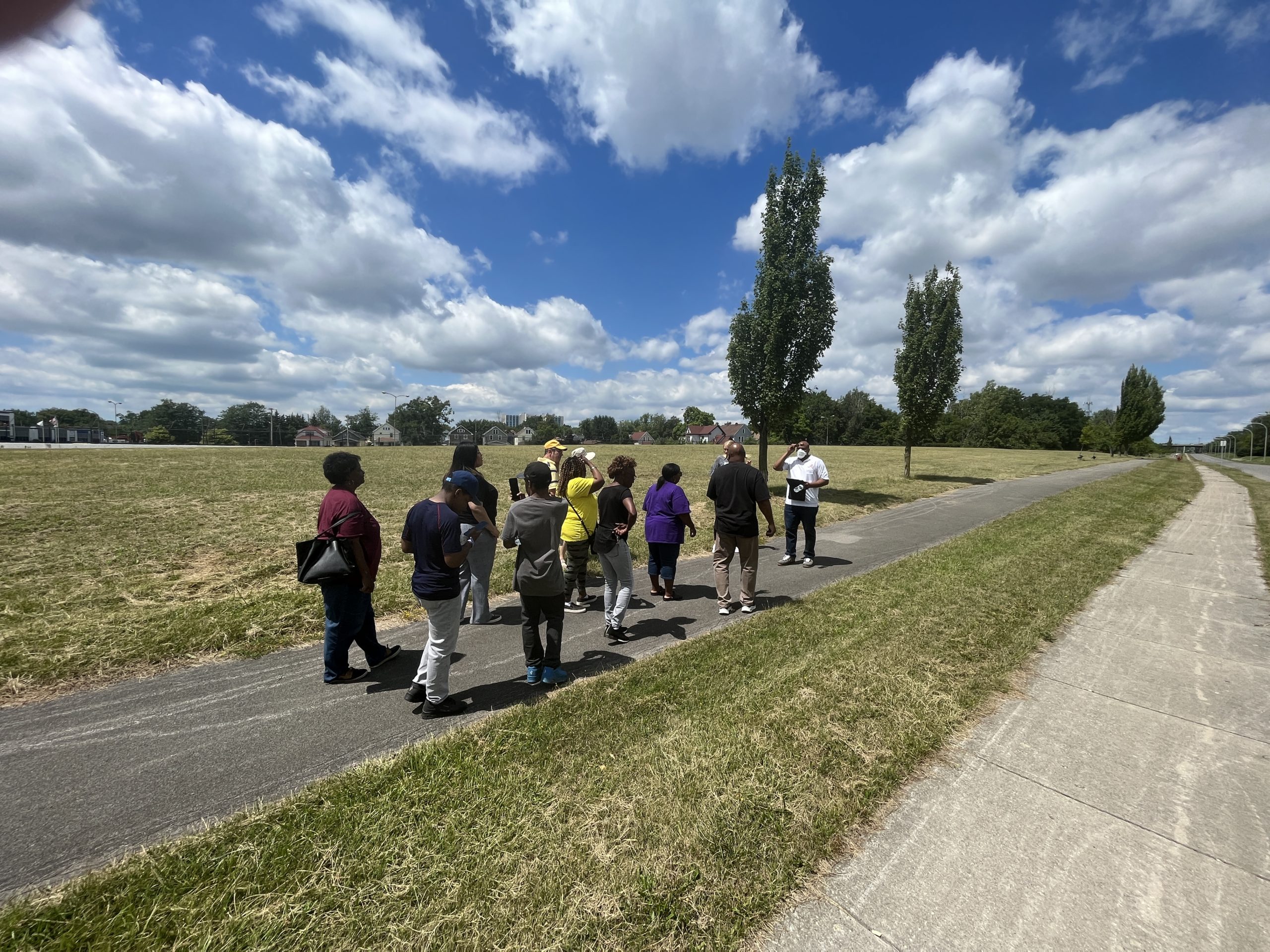 We're proud to partner with a trusted community organization like Heart of the City Neighborhoods, Inc. and others, to bring all kinds of different people and perspectives to the table. Together, we will work to create and hold space for ideas, conversations, and decision making, all with the goal of moving toward creating a better, safer way to move around town. With an informed and engaged community, that is in regular contact with its city representatives, a project like East Side Trail Connections becomes more than just an ambitious plan–it can become real.
Community Organizations
Here are a few of the community groups and organizations that we're working with to make this project a reality:
Delavan-Grider Community Center
Fillmore Forward, Inc.
Hamlin Park Community & Taxpayers Association
Mount Olive Baptist Church/Mount Olive Development Corporation
Norfolk Avenue Block Club #1
Northland Beltline Taxpayers Association
Restore Our Community Coalition (ROCC)
Trinidad Neighborhood Association
Community Events
Stay up to date for any activities and events happening in the community.
Upcoming Events
JULY 9 – 10AM-1PM: Norfolk Block Club + Tool Library Neighborhood Clean-Up and Tree Planting @ William L. Gaiter Parkway (1016 E Delavan Ave)
JULY 23 – 3:30Pm-6:30PM: Children's Garden Festival and Mobile Repair @ 179 Box Avenue
JULY 30 – 12PM-3PM: East Side Trails Public Meeting and Corridor Tour @ William L. Gaiter Parkway (1016 E Delavan Avenue)
AUGUST 17 – 5PM-8PM: East Side Trails Public Meeting and Corridor Tour @ Square Garden (1578 Fillmore Avenue)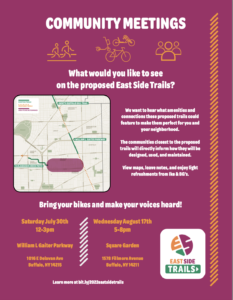 Join the conversation
Your input, feedback, and support is critical to the success of this project. But, it's also critical to the health and well-being of our communities. An engaged, connected community is an empowered one.
From April – December 2022, our survey engaged only with residents in the neighborhoods adjacent to the proposed trails. The survey is now closed and we will share results of the input we received in early 2023. Thank you for your participation in the survey and all of our engagement events in 2022!
Stakeholder Committee
As part of this project process, GObike and Heart of the City Neighborhoods, Inc. convened a stakeholder committee, full of community members and representatives of local, community based organizations. This group will meet monthly, to push our process forward, as well as be trusted advisors and advocates for the communities and neighborhoods that will be most affected by the East Side Trail Connections. Updates to committee meetings will be posted here.
Stakeholder Committee Members
Stephen Arlington, University Heights Collaborative
Stephanie Barber-Geter, Hamlin Park Taxpayers Association and Restore Our Community Coalition
LaTasha Bulluck, L.A.S.T. Call Laundry and Black Girls Hike
Steven Butler, Ike & BG's Restaurant
Allison DeHonney, Urban Fruits and Veggies and Buffalo Go Green
Ellen Harris-Harvey, Trinidad Neighborhood Association
Dr. Callie Johnson, Director of Communications and Community Engagement at Albright Knox
Stephanie Lee, Northland Beltline Taxpayers Association
Angie Davis Leveritte, Norfolk Avenue Block Club
Robert Mootry, Mount Olive Baptist Church/Mount Olive Development Corporation
Candace Moppins, Delavan Grider Community Center
Jasmine J. Westbrook, Buffalo Urban League-Young Professionals

February 3, 2022
March 22, 2022
April 26, 2022
July 5, 2022 (May/June meetings were rescheduled after events of May 14, 2022)